3 Bacon Cookers You Can Microwave, So You Can Have Crisp Bacon & Eat It, Too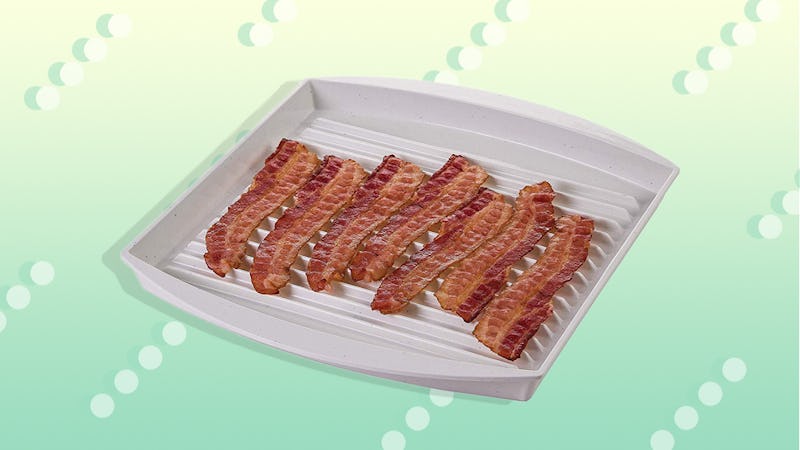 Amazon/Bustle
Whether you're tired of setting off your smoke alarm or cleaning up greasy splatter, making bacon in the microwave is a great alternative to stovetop and oven methods. The best microwavable bacon cookers can help accomplish this task, but their designs vary. To help you decide which cooker to buy, here are some things to keep in mind.
Depending on whether you host brunch regularly, or just want a few pieces of crispy bacon for a BLT or salad, decide how many slices you want to cook. Some microwavable bacon cookers make up to six slices, while others can cook up to a pound.
For the crispiest results, look for a cooker that's designed for grease to run off of the bacon. And for cleanup, opt for a dishwasher-safe model and let the steam of your dishwasher do the work.
Even in a microwave, there still remains the unavoidable issue of splattering. Some bacon cookers have perforated covers to help mitigate the mess, while others have a more open design. No matter which you choose, you can keep the surfaces of your microwave grease-free by wiping them down right after use.
Whichever design you pick, the best microwavable bacon cookers produce perfectly-crisp bacon without the undesirable pitfalls of preparing it the traditional way.