These Durable Outdoor Trash Cans Are The Key To Tackling Trash Day With Zero Mess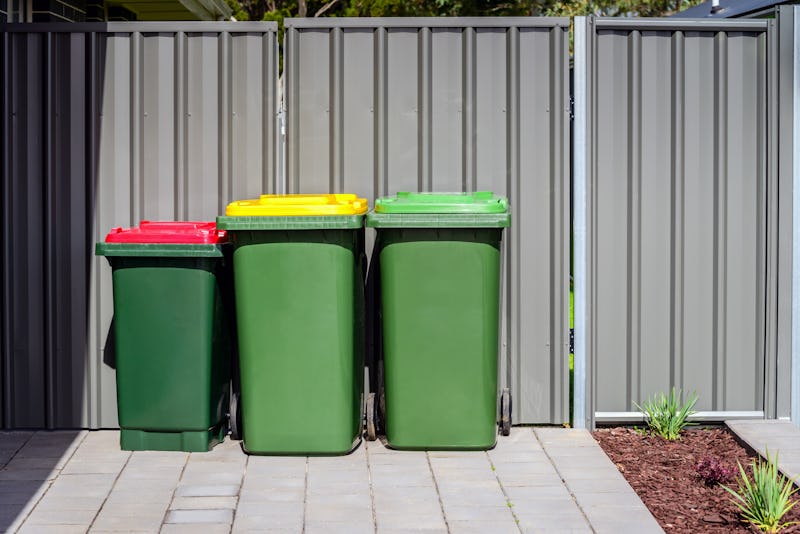 fotolia/amophoto.net
If you want to keep your outside space tidy, buying an outdoor trash can for your backyard or patio is a smart move — especially if you enjoy entertaining or eating al fresco, are an avid gardener, or have pets that you clean up after. The best outdoor trash cans are durable enough to keep out unwanted wildlife and pests and have a tight-fitting lid to prevent odors from escaping. They will also ideally be resistant to damage caused by UV rays and water, too.
Since you can use an outdoor trash can to hold everything from standard trash to potting soil, to recycling, you can get one in a wide range of sizes and materials. The type of trash can that's right for you will depend on your needs and budget. Keep in mind, opting for a metal trash can over a resin or plastic one will make it vulnerable to rust down the road. And, if you're shopping for a plastic trash can, be sure to keep your eyes peeled for UV-resistant materials (hot sun plus plastic equals melted and smelly trash).
Take a look below for the three best outdoor trash cans you buy. Whether you're looking for an attractive trash can that won't be an eyesore on your patio, a super-sized one with wheels, or a small one that doesn't take up too much space, there's sure to be a trash can on this list that will suit your needs.