This Cult-Favorite Pasta Maker Has Over 7,000 Amazon Reviews & Is On Sale For $47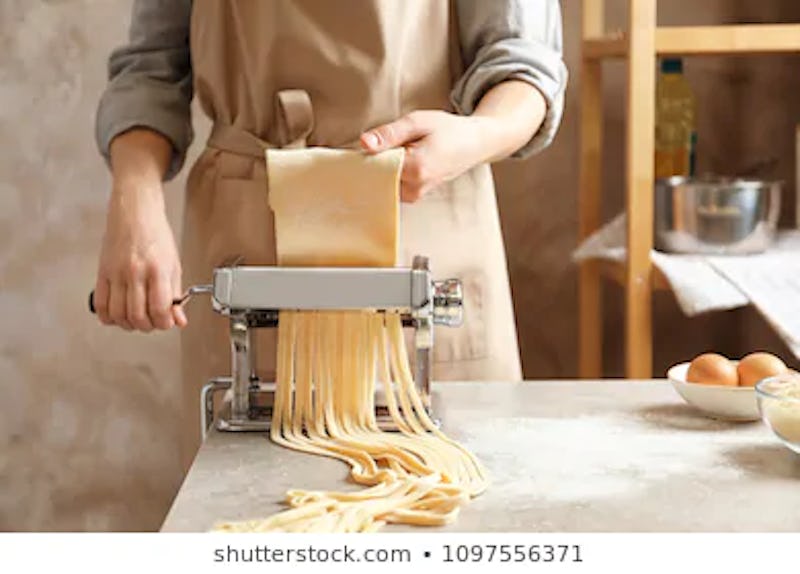 Shutterstock
Making fresh pasta may seem intimidating at first, but it's actually surprisingly simple, and it's made even easier with a pasta maker. For most people, the best pasta maker will be a manual machine (rather than an electric model). Manual machines require some arm work to crank out smooth sheets of dough, but they're relatively cheap and easy to use. If hand cranking isn't for you or you want to make round shapes like macaroni, there are electric pasta makers that do all the work for you (including mixing and kneading the dough). These machines, however, can cost upwards of a couple hundred dollars.
When it comes to manual pasta machines there are two models that dominate the market: the Imperia 150 and the Marcato Atlas 150. While nearly identical, most side-by-side comparisons favor the Marcato Atlas over the Imperia. However, the Imperia's primary flaws appear to be that the dial that controls the thickness of the dough is difficult to turn and it doesn't roll the dough out quite as thin as the Atlas — minor complaints, all things considered. For most people, the deciding factor between the two machines will come down to cost. The Imperia 150, is typically $20 cheaper than the Marcato Atlas, but both machines regularly fluctuate in price and you can often find one on sale. If you aren't too picky and want to save a couple bucks, opt for the cheaper of the two at the time of purchasing.
When considering an electric pasta maker, size and budget are key factors. Electric machines are relatively bulky, so if you have a small kitchen or limited space, consider the size of the machine when making your choice. As for budget, most electric machines intended for home use cost between $150 and $450. In most cases, you'll get what you pay for in terms of quality and features, so a mid-range range option should give you the best bang for your buck. As an alternative to buying a stand-alone electric machine, you can turn a Kitchenaid stand mixer into an electric pasta maker by purchasing attachments. This could save you space and money, if you already own a Kitchenaid.
All this considered, below you'll find some of the highest-rated, best-selling, and all-around most fantastic pasta machines for any home chef.
We only recommend products we love and that we think you will, too. We may receive a portion of sales from products purchased from this article, which was written by our Commerce team.