Preserve Foods & Save Money With These Pressure Canners For Beginners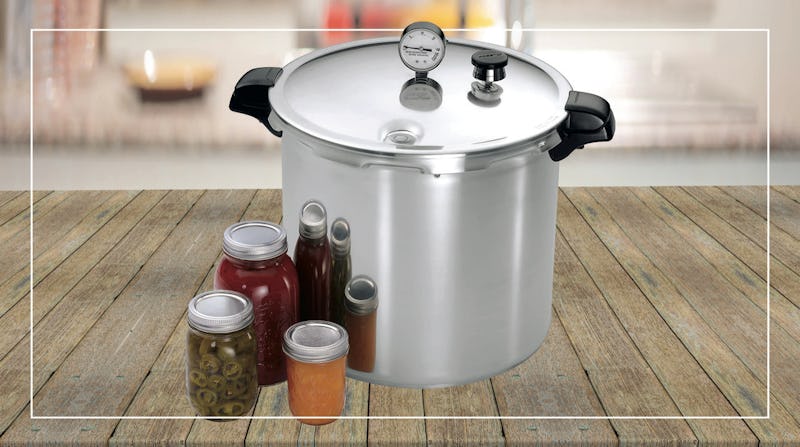 Amazon
Not to be confused with a pressure cooker, which isn't actually a good appliance for canning, a pressure canner is an indispensable tool for preserving a variety of foods. Whether you prefer a dial or a weighted gauge, the best pressure canner for beginners is made of reliable, affordable aluminum and is the right size for most canning recipes. Look for these features when choosing a pressure canner to ensure it's going to be up to the task of helping you can for years to come.
Materials
Pressure cookers are typically made of aluminum or stainless steel. For beginners, aluminum canners are ideal because they're more affordable, lightweight, and heat up more quickly. But just know they won't work on induction cook surfaces.
Size
Look for a pressure canner with a capacity of 20 to 25 quarts, which is big enough for a batch of canning without being overwhelmingly large. However, you may prefer a smaller size if storage is low in your kitchen and you're okay with small-batch canning.
Gauge Style
Preserving low-acid foods like vegetables, meat, and soup requires a pressure canner to heat food to a temperature higher than boiling water. A pressure canner reaches 240 degrees Fahrenheit by maintaining a pressure level between 10 and 15 PSI (which stands for pound force per square inch).
The pressure inside canners is typically measured by a dial gauge or a weighted gauge, both of which are effective and the one you choose is a matter of personal preference. A dial gauge has a needle similar to a scale, so it's easy to read and you can simply turn the heat up or down on your stovetop to adjust the pressure; this style does require a bit of maintenance in that the gauge must be checked at least once a year to confirm readings remain accurate — and accuracy is very important to ensure food safety.
With a weighted gauge canner, rings for your desired PSI are added, and once they begin to jiggle, you'll know you've reached the right pressure so overall it's an easier method; this kind of canner is noisier from the rocking weights, and keep in mind you're limited to the pressure levels of your weights.
Any of the pressure canners below will help you preserve food deliciously and safely. I've also included a set of jars to get you started on your canning journey.
We only recommend products we love and that we think you will, too. We may receive a portion of sales from products purchased from this article, which was written by our Commerce team.