The One Skin Care Product To Rule Them All — & You Can Get It On Amazon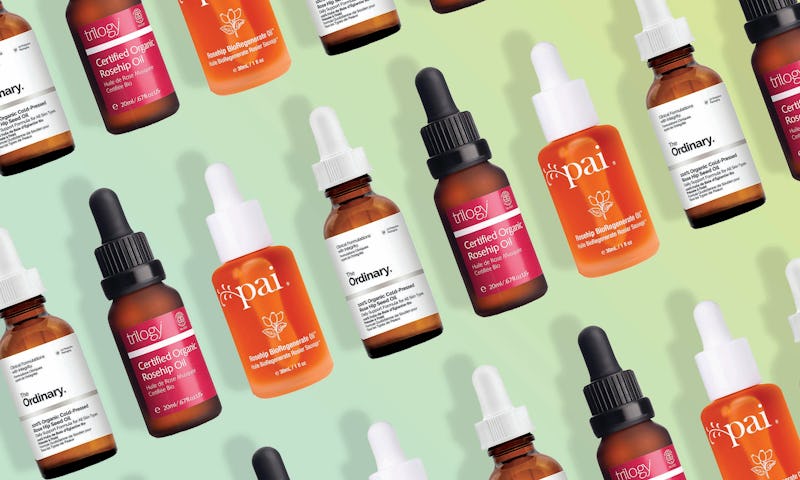 Bustle/Amazon
A singular ingredient to fix all of your skin woes may not exist, but there are some serious multi-taskers out there that come pretty close. One of those ingredients is rosehip oil, which can do everything from brighten and moisturize skin to fade hyperpigmentation and heal scars. To find the best rosehip oils for your face, stick with a pure, undiluted formula to reap its full benefits; even better if it's certified-organic.
Before you choose your rosehip oil, here's a quick breakdown on how best to apply it. You can use your oil in the morning and/or at night, always making sure that your skin is properly cleansed first. Since face oils seal in all the rest of your skin care products, you should apply rosehip oil as the last step in your routine, using two to three drops and patting it gently onto your skin.
Another thing to keep in mind when using rosehip oil is that oils expire faster than your average moisturizer. Pure rosehip oil typically has a shelf life of six months, while an option that's formulated with a carrier oil like vitamin E might last up to a year. Even with keeping those timelines in mind, organic oils like rosehip still require extra care. Exposure to sunlight and air will cause rosehip oil to oxidize, making it less effective, which is why you should look for an oil housed in a dark bottle with a dropper applicator to minimize its exposure to light and oxygen. You can also help ensure the quality of your oil by storing it in a cool place out of the direct sunlight. Rosehip oil is typically orange, so keep an eye out for any changes in color and odor as well.
Ahead, you'll find three of the best rosehip oils for your face — they're all organic, and there's an option at every price point.