If You Have Sensitive Skin, These Pads Are Gentle Enough For Your Most Delicate Areas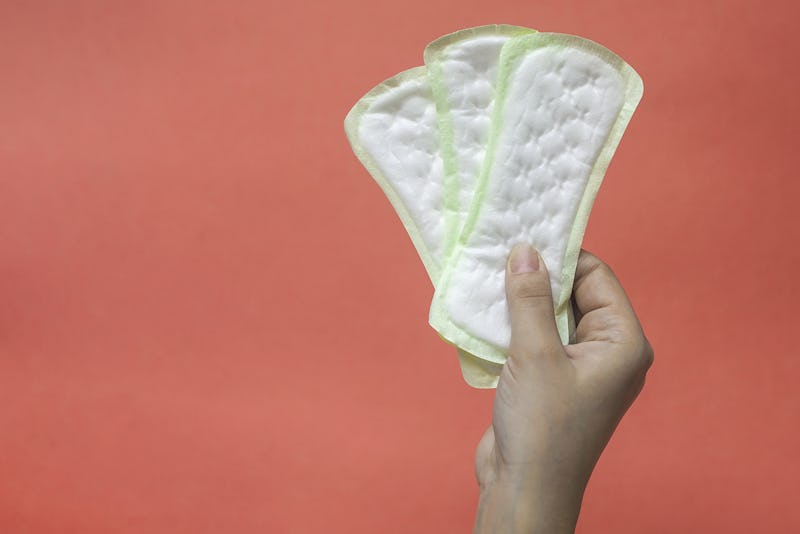 fotolia/golibtolibov
While pads are a standard go-to when it comes to dealing with your period, some can cause more problems than they solve. In fact, a lot of sanitary products contain fragrances and chemicals that can be harsh on your skin. To keep your skin safe and your period in check, you need the best sanitary pads for sensitive skin.
When searching for the right pad, there are a few key things to be on the lookout for. First, the word organic. Most truly organic sanitary pads are totally chemical-free, and many are unscented as well, making them less likely to irritate your skin. You'll also want to look for pads made from super softer materials — like cotton or bamboo — to prevent any uncomfortable rubbing or chafing.
Before you buy, you'll also want to consider your individual cycle and preferences. Just like other sanitary products, pads for sensitive skin come in various sizes for light, regular, and a heavy flow. There are even all-natural options with leak guards and wings, and some are even made from eco-friendly, reusable materials.
Cotton or Bamboo? Overnight or all-day pad? No matter which way you go, it can be tough to find the best sanitary pads for sensitive skin. Here's a round-up of some of the best options to keep your skin (and your clothes!) protected.