3 Siphon Coffee Makers On Amazon That Look Impressive AF (& Of Course Make Fantastic Coffee)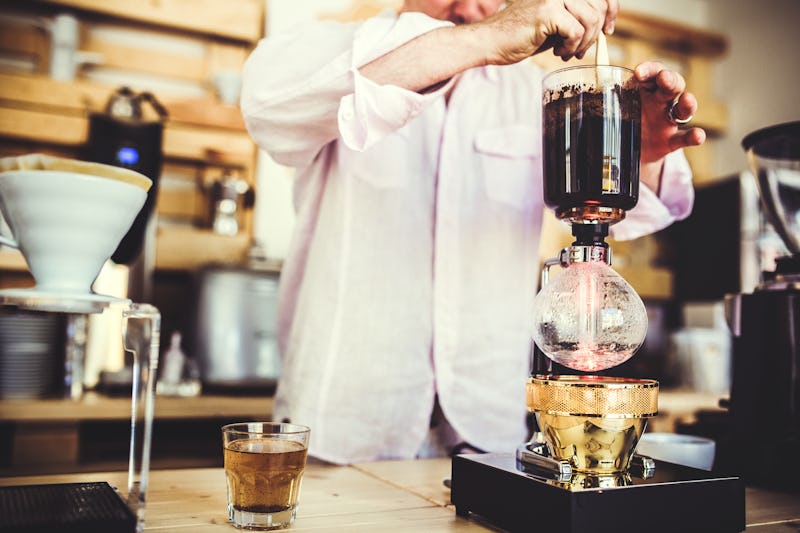 RyanJLane/E+/Getty Images
At first glance, siphon coffee makers resemble something you might find in a mad scientist's lab. And, in reality, there is some pretty cool science involved in this coffee-brewing method. But like any worthwhile kitchen gadget, they need to do more than look good. The best siphon coffee makers add style to your routine while helping you to brew a smooth, balanced cup of coffee. Here are a few things to consider while shopping.
Simply put, siphon coffee makers work by combining two common brewing methods: full immersion and filter brewing. Similar to making coffee in a French press, coffee grounds and hot water are combined. But instead of being plunged, they get passed through a metal or cloth filter via naturally-occurring vacuum pressure. Siphon coffee makers are typically constructed from heat-resistant glass that can withstand a direct flame without cracking. Some models are dishwasher-safe, but for longevity, it's best to hand-wash all parts.
As far as operation, decide whether you prefer a countertop, stovetop, or electric model. Since the general principle of brewing is the same between them, it's really a matter of how hands-on you like to be. Most models can brew anywhere between two and eight cups of coffee, so choose a model according to your coffee habits.
The best siphon coffee makers just might make you feel like a genius with their eye-catching design and barista-worthy brewing capabilities. Here are our top three picks.