Get The Stats You Need For Better Sleep Habits With These Comfortable Smartwatches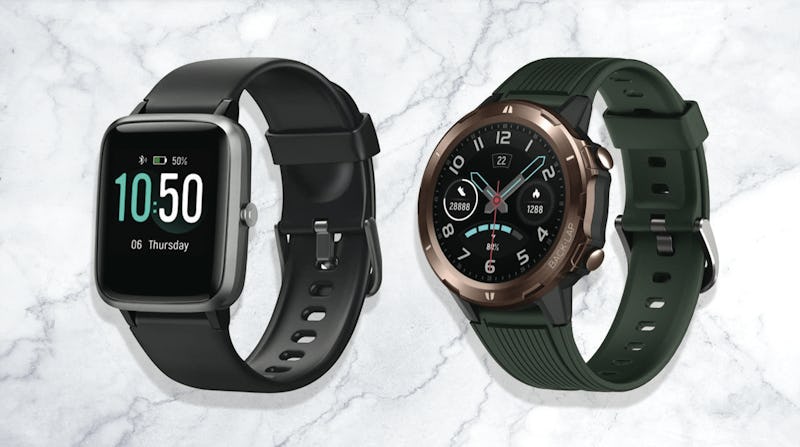 Amazon/Bustle
If you're waking up tired, a sleep tracker may be able to help you figure out where things are going wrong. The best smartwatches for sleep tracking automatically monitor your sleep stages and provide easy-to-understand stats on an app. And depending on how much you want to invest, they'll also give you customized insights and analysis to help you optimize your sleep, so you wake up feeling better-rested every morning.
When choosing the best sleep tracker watch for you, think about how much information you want to collect. Most wearable sleep trackers measure heart rate and body movement to record how many hours you're asleep and how long you're spending in different sleep stages; if that's all you're looking for, you can opt for a fairly simple and affordable smartwatch. On the other hand, if you're looking for more in-depth analysis, personalized insight, and tools to help you better manage your sleep, you'll want to invest in a smartwatch with more sophisticated features, like an alarm that optimizes your wake-up time based on your sleep cycle, or a built-in Alexa, so you can fall asleep to soothing sounds. And if you deal with sleep apnea, you may want to consider a watch with an SpO2 sensor to monitor your estimated blood oxygen levels during the night. (Of course, this is no substitute for professional medical help — so consult your doctor — but it may be a helpful tool.)
Besides sleep tracking, all these picks offer smartwatch features like phone notifications, music, fitness tracking, and GPS route tracking when connected to your smartphone.
A good night's sleep doesn't just feel great, it also has a myriad of positive effects on your mood, immune system, heart, metabolism, and more. So if you want a look into the quality of your sleep, these are the best smartwatches for sleep tracking on Amazon.
We only recommend products we love and that we think you will, too. We may receive a portion of sales from products purchased from this article, which was written by our Commerce team.