Attention: You Can Make Your Own LaCroix At Home With These Top-Rated Soda Makers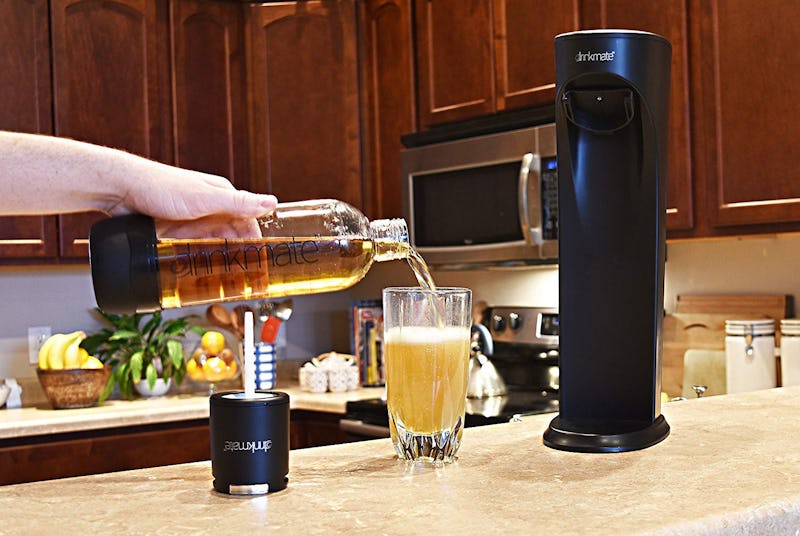 Amazon
Whether you're looking to cut down on the cost of bottled drinks or want to DIY your own LaCroix-style sparkling water, buying a soda maker for your kitchen is a great idea. All of the best soda makers enable you to make fizzy water at home fairly easily, but there are a number of other considerations to keep in mind as well.
First — and this is important — are you looking to carbonate other beverages in addition to water? Any soda maker can make flavored water drinks, but if you also want to carbonate other beverages like juice or wine, you'll need a machine that specifically touts that multi-functional capability (otherwise you will break your machine). Keep in mind that this often means a higher price tag.
Next, you'll need to think about capacity. How much carbonated drink do you expect to make? If you'll be making fizzy waters 24/7, it might be worth investing in a tabletop model for your counter. However, it if it will be more of an occasional-use kitchen gadget, a handheld soda maker might be the better fit since they take up less room and are more affordable.
Finally, as with any kitchen appliance, consider your budget. In order for soda makers to run, you'll have to purchase carbon canisters that are typically sold separately and can cost up to $30 a piece. Make sure to factor this into your budget as you shop.
For more details on the best soda makers you can buy, keep scrolling.