The 3 Best Splatter Screens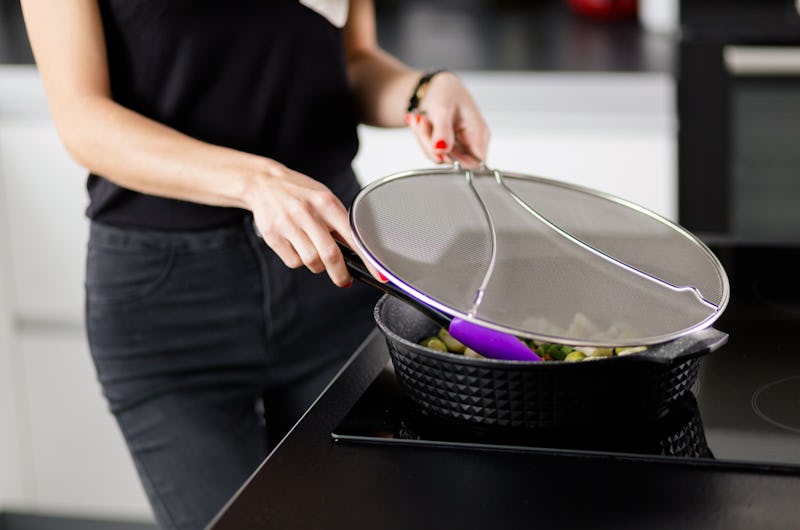 Shutterstock/salonfoto
Raise your hand if you're tired of wiping down your stove and countertops every time you cook. Whether you're sautéing vegetables, stir-frying tofu, or searing a ribeye, splatter is an annoying and inevitable part of the process. There's no shortage of products that claim to combat splatter, including vertical guards that completely surround pans, and the more traditional covers that do a good job keeping splatter at bay, but tend to trap moisture. The best splatter screens should help to contain flying grease and oil droplets, without taking up unnecessary space or impacting your cooking results.
When deciding which splatter screen to purchase, start by taking an inventory of the pans you use most. To be effective, your new splatter screen should fit to the edge of your favorite frying pan, braiser, or dutch oven.
A fine-mesh stainless steel screen will do the best job of trapping the majority of splatter, but often times need to be hand-washed. However, the fine-mesh screens below were chosen because they offer hassle-free, dishwasher-safe cleanup. For most jobs, a basic flat, circular screen is sufficient, but if you like to cook thick cuts of meat, you might want one with a domed shape for extra clearance. If you're looking for versatility, some screens are reinforced so they can serve other purposes.
Cooking is never mess-free, but the best splatter screens will help keep your surfaces keep relatively clean, so you can spend more time at the table and less time worrying about greasy countertops.