Espresso Drinkers, These Are The Best Super Automatic Espresso Machines Under $1000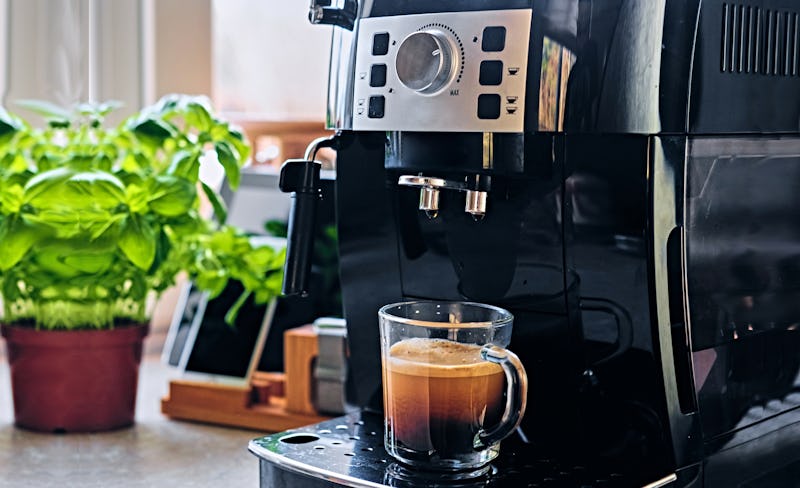 fotolia/Fxquadro
Super automatic espresso machines take the guesswork out of crafting cafe-quality espresso drinks at home by grinding, tamping, and brewing coffee with the touch of a button. With this kind of built-in convenience, it's no wonder that many of them run in the thousands of dollars. Fortunately, it's possible to find a quality super automatic espresso machine for under $1,000. The best super automatic espresso machines under $1,000 boast many of the same features as more expensive models, but when deciding which machine is right for you, there are a few things to consider.
It's well-known that grinding your own beans produces the freshest, most flavorful espresso. But there may be moments when you don't want to grind your own beans. If you're short on time or don't want to wake someone (grinding can be noisy), look for a machine that also brews pre-ground coffee.
Next, consider how much technology you're comfortable with. Most machines offer the option to customize brew temperature, grind size and brew volume. Some machines come with simple dials, while others feature more advanced programming and display screens.
If you're an aspiring barista, look for a machine that offers the option of steaming or frothing milk, as well as dispensing hot water. This will let you make the widest range of drinks, from espresso shots to lattes and Americanos.
Below are three of the best super automatic espresso machines under $1,000 that will make your at-home espresso ritual easy and convenient.