Life Hack: You Can Make Restaurant-Quality Sushi At Home Using This Handy Kitchen Gadget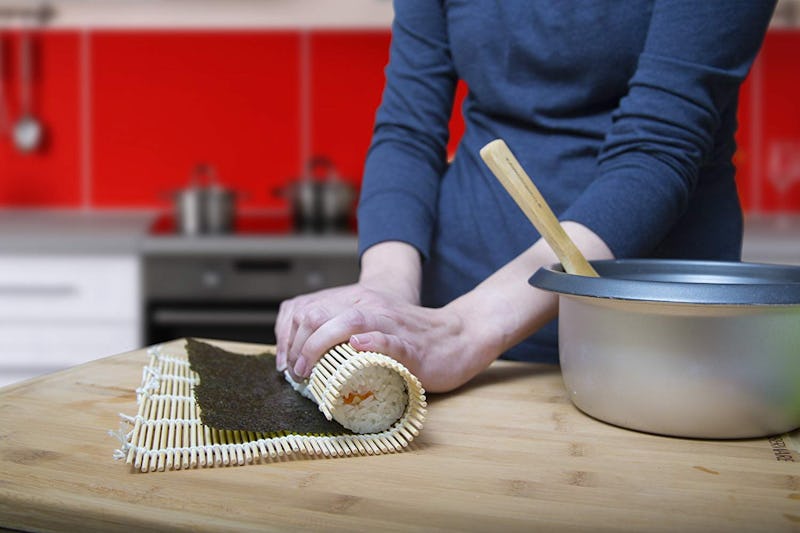 Amazon
If you've finally come around to making your own sushi at home, then you'll need one of the best sushi rollers. Rolling sushi is notoriously difficult, but the right tools can make quick work of the task. However, "sushi rollers," is a misnomer. There are actually two commonly-used ways for rolling your sushi at home.
The first, using a mat, is perhaps the most common. You'll find mats of all materials, shapes, and designs out there that you can use to roll your sushi together. If you decide to opt for a mat, look for one made of bamboo that is eco-friendly, and oftentimes odor or mold resistant, or one made of plastic that can go in your dishwasher. This will make it easier to keep them clean between uses.
If a sushi mat isn't your speed, you can also invest in a sushi bazooka. If you've never heard of these, they're essentially a long plastic tube that you lay both the rice and your central ingredients in, and then close shut. Then you use pressure to force the cylindrical sushi out through the bottom.
The right sushi roller for you will largely come down to your preferences. But, if you're a true beginner, make sure to look out for a kit that comes with a sushi cutter and good instructions to make your prep that much easier.
But enough, you could be eating sushi right now! Here are the best sushi rollers out there.