There's Any Easier Way To Cut Corn Off The Cob — & It'll Change Your Grill Nights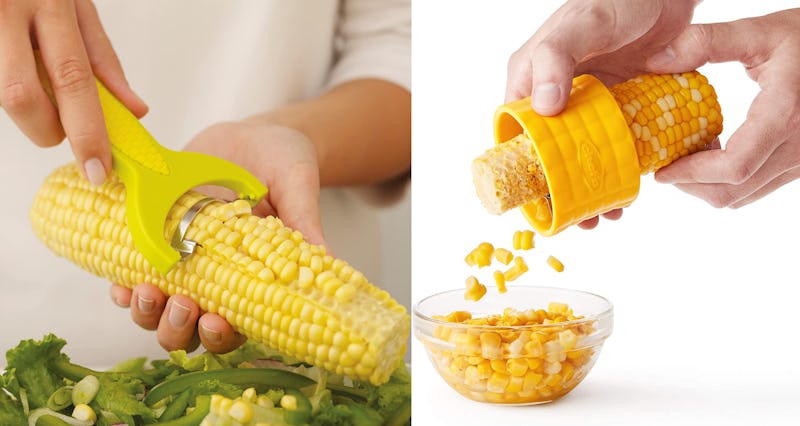 Amazon
Cutting corn off the cob with a knife sends kernels flying, and can be dangerous and inefficient. You'll find dozens of gadgets that promise to do the job of removing corn kernels from the cob, but they range widely in how they work. Here are some things to look for as you shop for the best tools for cutting corn off the cob.
Peeler-style removers (sometimes called "strippers") put your hands in a familiar position to remove corn kernels in strips, similar to peeling a carrot or cucumber. Depending on your preferences, you can find strippers on a Y-peeler body or a traditional straight handle.
Y-peelers have a curved bottom blade that removes the kernels from the cob, and a metal guard to prevent kernels from flying away. On a straight-handled peeler, you'll generally find one sharp curved blade, and the back of the peeler itself contains kernels.
Circular strippers feature a plastic housing that surrounds a circular center blade. The housing serves as a grip for your hand, and these let you remove kernels from the cob in a single sweep.
Whichever tool you choose, it should be comfortable and safe to use. These are the best tools for cutting corn off the cob. Bonus: None of them involve a knife.
We only recommend products we love and that we think you will, too. We may receive a portion of sales from products purchased from this article, which was written by our Commerce team.