These Top-Notch Vacuum Sealers Make Cooking Sous Vide That Much Easier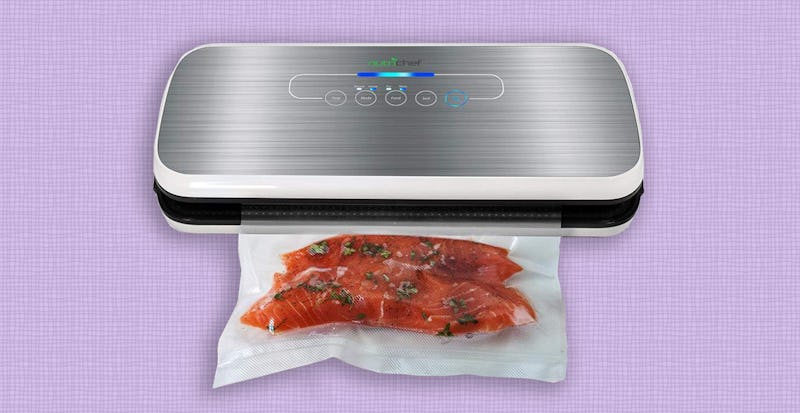 Amazon/Bustle
In order to slow-cook a meal perfectly at home with a sous vide machine, it's a good idea to vacuum-seal food beforehand to prevent leaks. (After all, "sous vide" literally means "under vacuum" in French, and vacuum-sealing is an ideal way to cook sous vide.) The best vacuum sealers for sous vide create an air-tight lock, allowing you to cook food in a water bath without impeding the heat transfer from the water to the food with pockets of air.
When shopping for a vacuum sealer, here are a few considerations to keep in mind:
Efficiency and speed: Although you don't need to spend a lot to find a high-quality vacuum sealer, if you rely on sous vide to cook many of your weekly meals, it might be worth investing in a time-saving automatic vacuum sealer rather than a manually-operated one.
Accessories: Vacuum sealers typically come with the reusable bags needed to complete the process. However, some options may contain other accessories as well, like a wine stopper cork you can use to reseal bottles of wine.
Your budget: How much you're willing to spend on a vacuum sealer will play a large role in which one you decide to buy. Luckily, vacuum sealers are sole at a range of price points.
For more details on the best vacuum sealers for sous vide, keep scrolling.