Good News: These Waterproof Speakers Are Wireless & Ready To Use In The Shower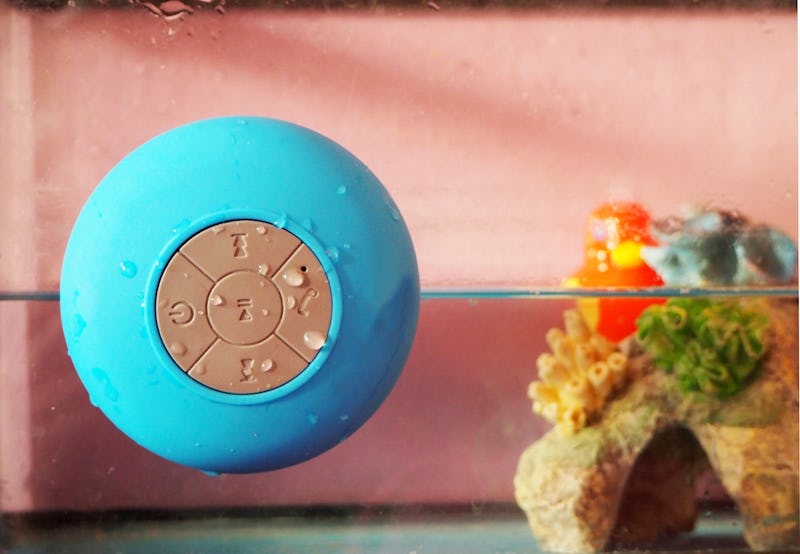 luca pbl/Shutterstock
To keep the jams flowing in the shower, the best waterproof wireless speakers for the shower are essential. There's obviously no shortage of Bluetooth speakers around. However, as you shop for a shower-ready one there are a few important factors to consider before you buy.
The first spec to keep in mind, of course, is a speaker's water-resistance level (aka the IP rating). A solid water-resistant baseline, capable of handling splashes, is an IPX6 rating or higher. However, truly waterproof models will have at least an IPX7 rating (meaning they can be submerged in up to 1 meter of water for 30 minutes) — and that's what I'm talking about here. Aside from waterproofing, you'll also want Bluetooth compatibility for wireless use with your favorite devices and a sleek design that meets your needs and won't get in the way. Shower speakers can lay flat, hang, or stick onto your shower walls. The choice is yours, but as long as the one you pick has the crucial specs — a waterproof exterior and Bluetooth compatibility — you're good to go.
Keeping all this info in mind, read on to shop a list of the best waterproof wireless speakers for the shower you can find on Amazon. Your new favorite bathroom accessory is within reach.