People Are Calling Out The Super Bowl Ads That Stereotype Women & There Are More Than You Think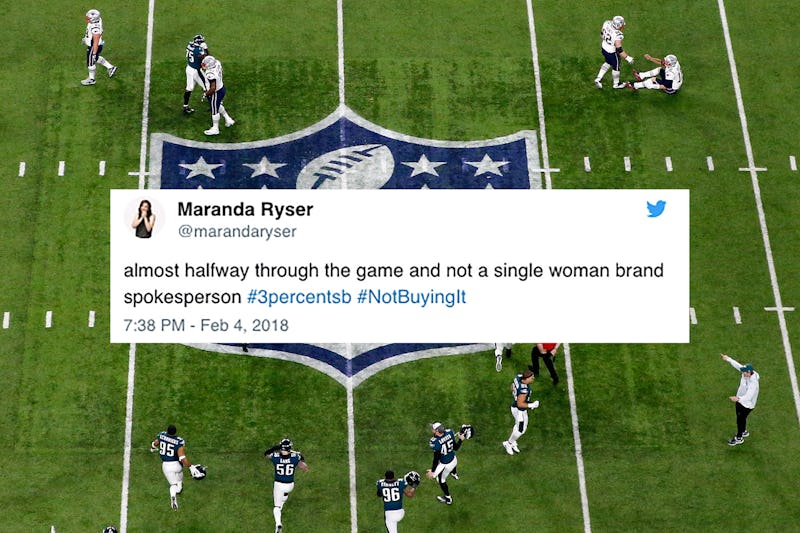 Rob Carr/Getty Images Sport/Getty Images
Even if you aren't much of a football fan, you might choose to watch the 2018 Super Bowl just for the commercials. According to Sports Illustrated, the average advertiser spends more than $5 million on a 30-second 2018 Super Bowl commercial, so the ads are usually pretty good. But during the big game on Feb 4, 2018, #3PercentSB started to trend on Twitter thanks to The 3% Movement, an organization that aims to bring more diversity to the advertising field. I asked myself, "Why is #3PercentSB trending?" The answer is actually pretty simple: People felt like most ads were aimed toward men and wanted to call them out — as well as praise the companies who actually got it right. Per the organization's mission statement: "Only three percent of creative directors are women. And even less are people of color. So we've made it our mission to bring that number up to fifty percent."
During commercial breaks, The 3% Movement rated each commercial by what it calls the "3 percent test." The questions: Is there a woman? Is she defying stereotypes? Is she the hero? The organization congratulated advertisers that passed the test, like Lexus, and called out advertisers who didn't, explaining why their ads were problematic. The crux of the viral hashtag is straightforward: Women want advertisers to feel heat if their ads don't feature diversity, and individual callouts are a unique way to do so.
And as Twitter user @Shannon_Mc2 pointed out, not speaking to women is actually a complete waste of money for advertisers, tweeting, "While you watch those #SuperBowl ads today, remember....women are half the audience and 80% of the buying power in the US."
The organization also hosts Super Bowl Tweetups all over the U.S., where female advertising pros get together to live-tweet their thoughts about each commercial. Curious about what they had to say about the commercials that aired during the biggest football game of the year? These are some of the best tweets recognizing companies for their inclusion (or lack thereof) during the 2018 Super Bowl.