This Tiny Bluetooth Keyboard Fits In Your Pocket & It's A Game-Changer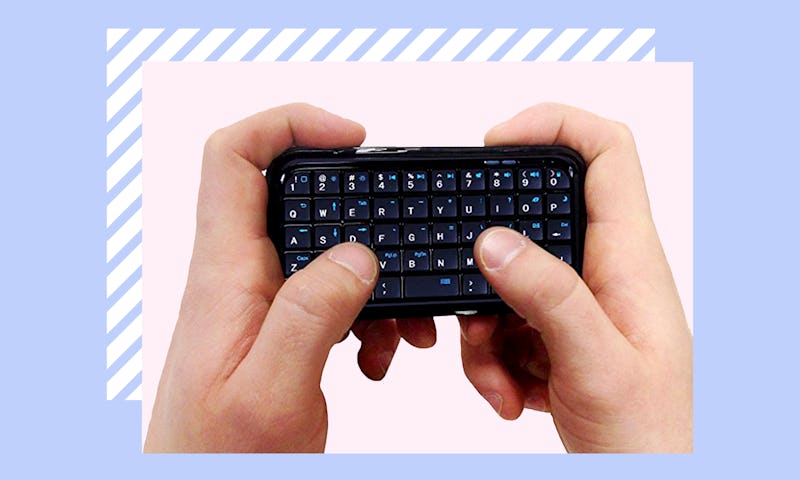 Amazon / Bustle
In this day and age, having a mini Bluetooth keyboard is undeniably useful, but knowing exactly how you plan to use the keyboard will largely dictate which one is best for you. If size is your number-one priority, then my top pick for the absolute smallest Bluetooth keyboard is the pocket-sized HDE Bluetooth 3.0 Keyboard. Not only is this keyboard, super small but the buttons are still large enough that they are easy to press. Its size makes it great for on the go (think: texting on your phone, or typing on your tablet), but it has everything you need if you plan to use it at home with your smart TV, too. However while it's a solid choice for anyone looking for a truly tiny keyboard, it's pretty barebones in terms of features.
If you are willing to sacrifice a little bit in terms of size, there are a few things you can get in return. If you don't mind that your Bluetooth keyboard may not fit in your pants pocket, then I'd recommend Jelly Comb's mini Bluetooth keyboard. It's a slightly larger palm-sized device that has a track pad and several more keys (including an F-command row). For other people who don't necessarily need a handheld device and folks whose large hand-size makes tiny buttons hard to navigate, it's worth considering a full-size Bluetooth keyboard that folds down over a mini keyboard. Even then, in terms of size, the sacrifice is minimal; I found a Jelly Comb foldable Bluetooth keyboard that when collapsed is just under 6 inches wide — again, it may not fit in your pocket, but you should be able to easily toss it in your bag.
For a more in depth look at the pros and cons of the best and smallest mini keyboards, read on.