The 4 Best Budget Food Processors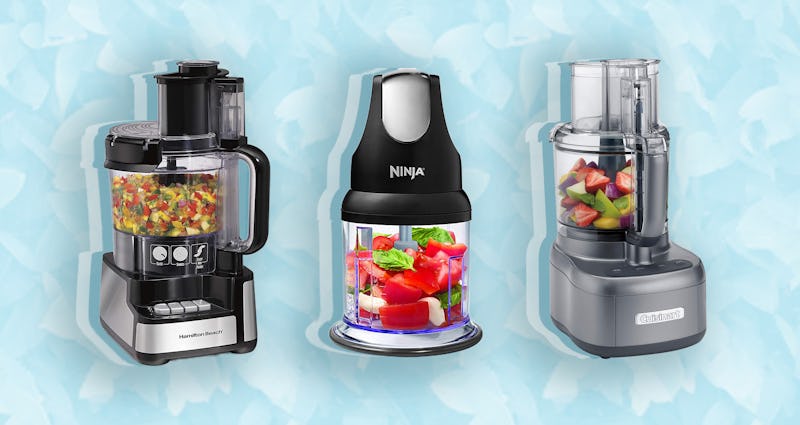 Amazon/Bustle
Food processors are serious time-savers in the kitchen. They tackle tedious food prep tasks like chopping onions and shredding cheese, and can whip up smooth purees and chunky dips. But if you've ever been discouraged by the high price of many food processors, you're not alone. Luckily, it's getting easier to find models under $100, and the best budget food processors can accomplish the same kitchen tasks as high-end models, all for an affordable price. To help you narrow down the options as you shop, here are a few things to consider.
At the most basic level, a good food processor should be able to chop, mix, blend, slice, and shred using disc attachments. Depending on what you want to make and how much you want to prepare, you've got options when it comes to bowl capacity. Most food processors range from 7 to 12 cups, but if you don't have space for a large processor, just remember you can usually process your ingredients in two or more batches.
A pulse button is essential for being able to chop ingredients in short bursts without over-processing. Wide feed chutes are convenient for adding ingredients, and mean less ingredient prep when slicing or shredding. While most machines can cut butter into flour for pastry and biscuits, heavier recipes like pizza dough require a strong motor and heavy base and you may want to consider spending a bit more on more heavy-duty food processor.
Whatever you plan to make, the best budget food processors below will give you the tools you need — without breaking the bank.