From Food To Pets, These Powerful Carpet Spot Cleaners Tackle Your Mess With Ease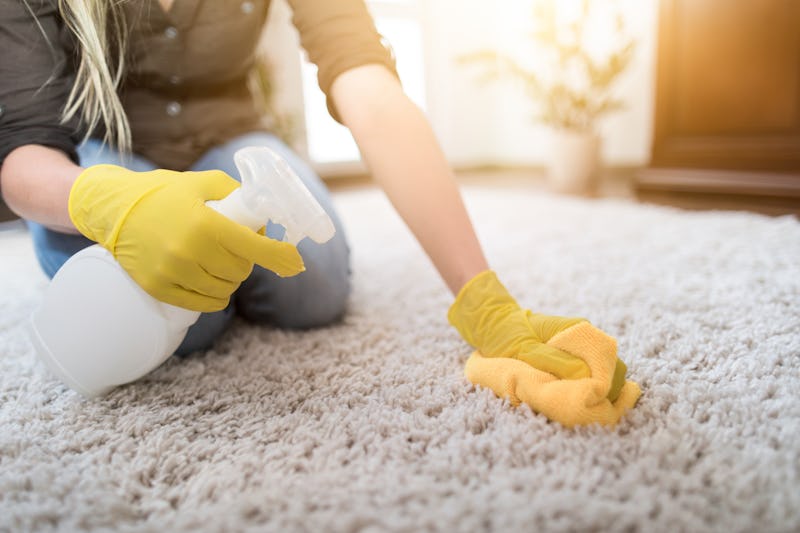 REDPIXEL.PL / Shutterstock
If you have carpeting or area rugs in your home, a reliable carpet cleaner is a must-have for tackling stains like dirt, red wine or other food spills, and general messes caused by pets and more. The best carpet spot cleaners can clean, deodorize, and remove stubborn stains at the same time.
When choosing a carpet spot cleaner, first consider what type of fabric needs cleaning. While all of the cleaners on this list are suitable for most carpets and area rugs, be sure to first check instructions on how to properly use them. It's also a good idea to test it on a discreet area to make sure it won't damage the colors or material. Some of these picks also double as upholstery cleaners.
Products specifically designed to target pet stains also work to remove difficult odors and prevent pets from soiling the same area again. For those with chemical sensitivities and allergies, an eco-friendly carpet cleaner is a good choice. They typically use plant-based enzymes, which are effective at removing stains without harsh chemicals. The eco-friendly cleaner on this list also works on laundry. For well-traveled areas like hallways and area rugs, using a high-traffic carpet foam before vacuuming can help get the job done and remove more dirt and pet hair than vacuuming alone.
With those factors in mind, these are the best carpet spot cleaners to help you tidy up your home in no time.