These Comfy & Secure Cat Harnesses Are Your Best Bets For Outdoor Adventures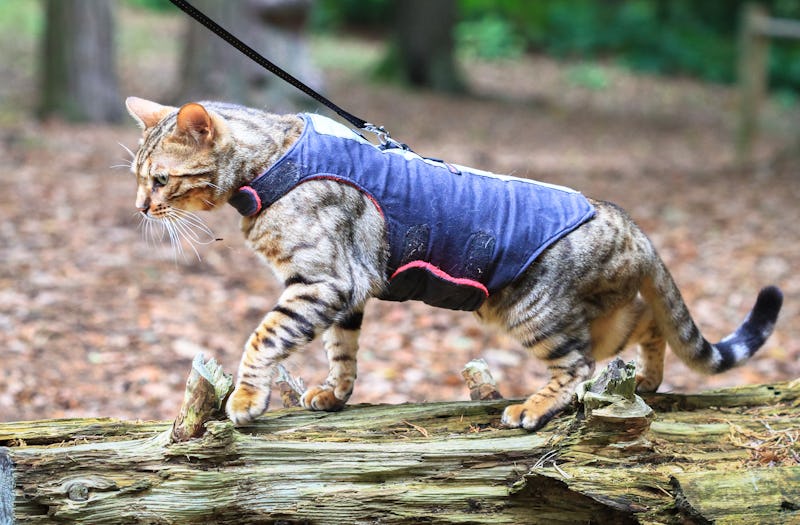 Kevin Wells Photography / Shutterstock
Harnesses are essential for cat parents who want to spend supervised time outdoors with their typically indoor pets, which also happens to be a great way to help reduce boredom-induced behavior issues. When going on outdoor adventures, or just taking a trip to the vet, you'll want one of the best cat harnesses to keep your furry pal safe and happy.
When deciding on the right harness, there are two main types to choose from:
Walking vests provide more coverage and more even pressure distribution so they're a good choice for cats who can easily slip out of a lead and are typically more comfortable. However, not all of them let you adjust the torso and/or neck, so it's a little more difficult to customize the fit. For warm climates, look for these in breathable fabrics like mesh. These often need to have a leash purchased separately, so I've included a sturdy nylon one as well.
H-style harnesses are largely made of nylon and offer adjustable neck and girth straps to make finding the perfect fit easier. They tend to be cheaper and are a great choice for those just testing out cat harnesses or who only need to use it occasionally for things like vet visits.
Getting the right size is key, so be sure to measure around the chest and neck and compare it to each manufacturers' sizing chart. The harness should sit comfortably across the shoulders and under the belly and not strain the neck area. You should be able to fit a finger or two inside the harness but not more than that.
With all that in mind, I've chosen the best cat harnesses on Amazon to turn your indoor kitty into an adventure cat.