Attention Owners Of Multiple Cats: These Litters Do A *Much* Better Job Of Keeping Odor At Bay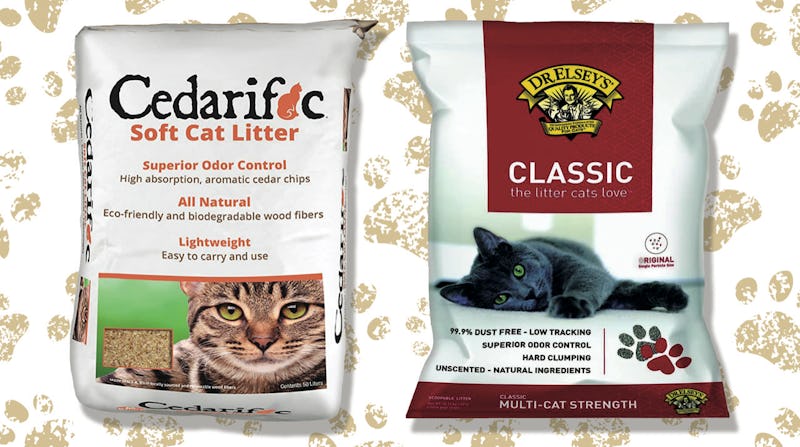 Amazon/Bustle
Keeping the litter box clean and odor-free can be difficult, especially when you have multiple cats, but you probably want to spend more time cuddling with your kitties than picking up after them. The best cat litters for multiple cats are highly absorbent, keep odors under control, and are easy to clean. Also important: They're formulated to minimize dust and allergen exposure in both cats and humans.
Your first choice will be between clumping and non-clumping litter. Clumping litters form easy-to-scoop chunks as they absorb moisture, so you can remove them easily, which means you won't have to empty and clean the litter box as often. Some cats prefer clumping clay litter, especially those without synthetic fragrances and odor-control additives like baking soda or activated charcoal. However, if your cats aren't too finicky, it's worth trying a litter with baking soda or activated charcoal for more odor-eliminating power. As an alternative to clumping litter, non-clumping crystal litter is highly absorbent, great for odor control, and requires less scooping, but you'll probably have to change out the litter more frequently as it becomes saturated. Another non-clumping alternative is cedar litter made with — you guessed it — cedar chips. An eco-friendly choice, these fragrant chips are biodegradable and compostable.
Other considerations are litter tracking and dust. You'll want to opt for a litter with larger, heavier particles that can help minimize the amount of tracking after your kitties use the box, and you'll also want to keep an eye out for low-dust formulas to help prevent respiratory irritation for both you and your cat.
Of course, a regular litter box cleaning routine is key to making sure your cats use the box properly, but these are the best cat litters for multiple cats that can help reduce odors and keep you and your kitties happy.
We only recommend products we love and that we think you will, too. We may receive a portion of sales from products purchased from this article, which was written by our Commerce team.