4 Cheap Soda Makers That You Actually Need Right Now If You're Obsessed With Seltzer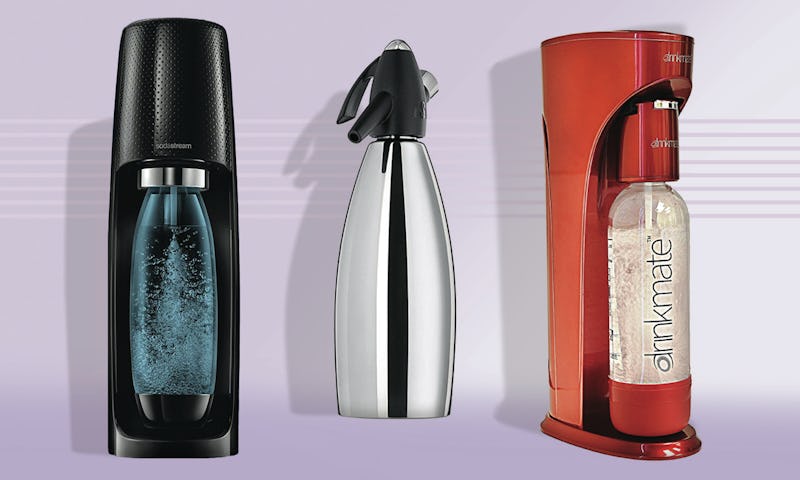 Bustle / Amazon
If you've ever had to lug a couple of 12-packs of soda out of a store and into your home, then you know that the struggle can be all too real. However, the best cheap soda makers can take some of the load off, allowing you to make your favorite drinks at home while saving money on expensive sodas and reducing unnecessary waste. The whole soda-making process is pretty simple, too; the machine injects carbon dioxide (usually via a CO2 cylinder) into water to make that crave-worthy fizz.
When picking out a soda maker, pay attention to the size of the carbon dioxide tank that is needed. Most standard machines take 60-liter cylinders, which are easy to get your hands on. But if you're worried about ever running out of CO2, SodaStream offers an easy cylinder exchange program. Siphon bottles typically require much smaller single-use cartridges.
If you are looking for the cheapest option overall, then a siphon is probably going to be your best bet. However, it you're seeking an actual soda maker machine, you will most likely pay more. Machines that are totally automated (aka they basically just require the click of a single button in order to work), are going to be the most expensive but easiest-to-use option.
It's worth noting that SodaStream really dominates the soda maker market. But it's for good reason, since the brand makes reliable machines that craft tasty drinks. However, if you are interested in other picks, I even found a machine that allows you to carbonate any drink you please, not just water (which is a total no-no from SodaStream).
Get your soda fix for less, thanks to these four budget-friendly, yet highly-rated soda makers on Amazon, all of them $100 or less.