Want To Make Cold-Pressed Juice At Home? These Are The Best Juicers For The Job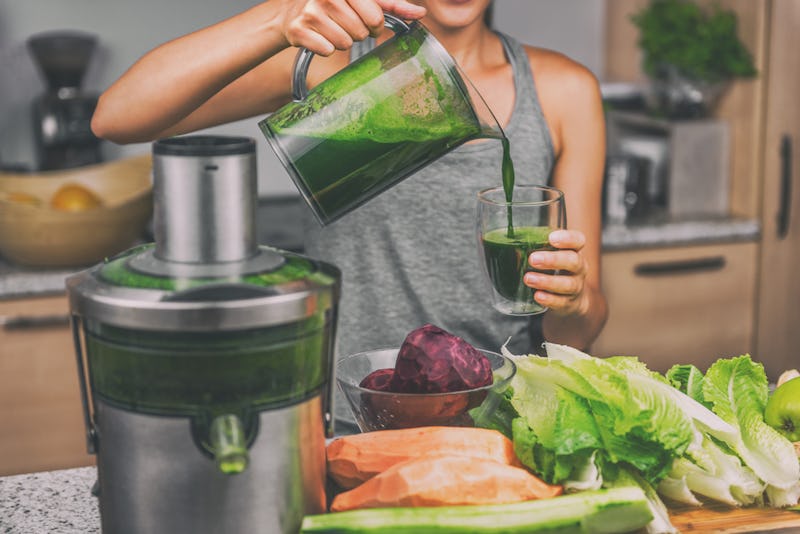 Maridav/Shutterstock
For an easy way to get nutrients, drinking freshly juiced fruits and vegetables is a great way to go. And, if you're making juice at home, the best cold-press juicers can help you get the most from your produce to create delicious, juice-bar-quality results. Cold-press juicers can range widely in their designs and price points, so here are a few things to consider as you shop.
Simply put, cold-pressing is a process whereby ingredients are crushed and pressed to separate their juice from the fiber. This happens at extremely slow speeds, so ingredients aren't subjected to much heat or air — two elements that cause juice to spoil and can impact its nutritional value.
Cold-press juicers come with vertical or horizontal augers, and picking which type to get is a personal preference. Consider where you plan to store and use it, since whether it needs more room up top or across can vary depending on whether you choose one with a vertical or a horizontal auger.
Cold-press juicing can take a while, and some models allow you to fill a chamber with ingredients so you don't have to constantly feed it. To make cleanup easier, your juicer should disassemble into as few parts as possible. If you want versatility, consider investing in a juicer that can do more than juice, like making nut milks or even frozen treats.
The best cold-press juicers give you the tools to make vitamin-rich juice at home, no matter what ingredients you're using. Keep scrolling, they're gathered up below.
We only recommend products we love and that we think you will, too. We may receive a portion of sales from products purchased from this article, which was written by our Commerce team.