Calling All Pet Parents! These Are The Best Cordless Vacuums For Trapping Pet Hair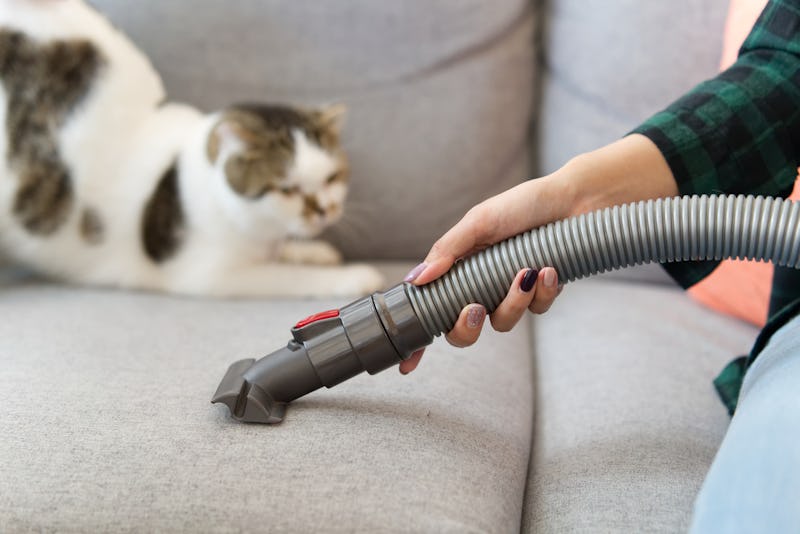 Kawee/Fotolia
According to the home experts at BobVilla.com, it's a good idea to vacuum daily if you have pets living in your home to combat pet hair, dander, allergens, and even potentially harmful bacteria. To make keeping your home clean and healthy a lot easier, you'll need one of the best cordless vacuums for pet hair to help tackle floors or upholstery while giving you the flexibility to target your pets' favorite hangout spots with ease.
Cordless vacuums, in general, are lightweight and easy to maneuver. However, they come in a variety of styles from stick to robotic, so choosing the best one for you depends on you and your pets' needs. Stick vacuums are ideal for cleaning high-traffic floor areas and most of them work well on both carpet and hardwood floors. For a quick spot cleaning or removing pet hair from hard-to-reach spots like rugs, stairs, and a favorite chair, handheld vacuums are great.
If you're short on time or don't like the idea of having to manually vacuum daily, self-charging robotic vacuums are also an option. They work on most types of flooring and can be programmed to clean automatically at set times during the day. While these offer a ton of convenience, they won't do the job of cleaning your upholstery.
When shopping, it's smart to look for features like washable HEPA or other filters for removing allergens and a battery life that lasts at least 20 to 30 minutes between charges so you won't have to stop midway through.
To make cleaning up after your furry family members easier, here's my roundup of the best cordless vacuums for pet hair. Each of these top-rated vacuums has powerful suction and unique features to make cleaning hair and dirt a breeze.