From Acid Toners To Wine-Infused Peel Pads, Here Are 5 Awesome Exfoliators You Can Use Every Day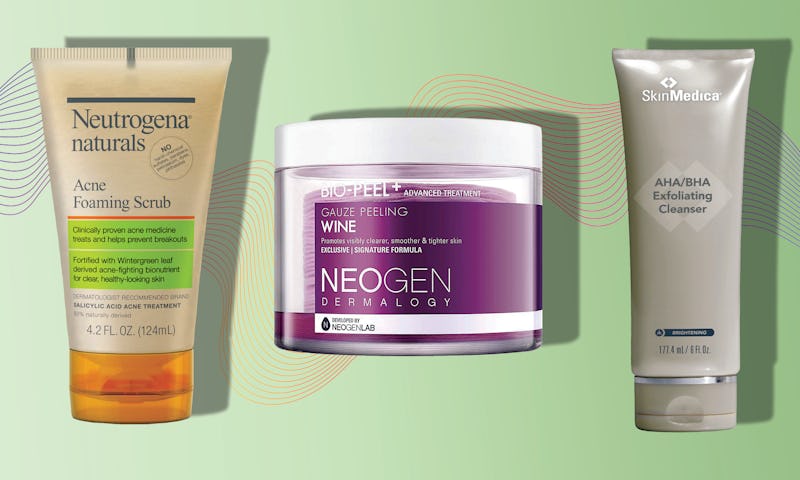 Amazon/Bustle
At this point, most people are familiar with the benefits of exfoliating your skin. The process of removing dead skin cells helps with everything from clogged pores and acne to uneven tone and texture, resulting in a clearer, brighter, and overall healthier-looking complexion. With exfoliating being more popular than ever, there are tons of great products to choose from — but if you're looking for one of the best daily exfoliators, specifically, you've got to be a bit careful.
Chemical Versus Physical Exfoliators:
There are two types of exfoliators out there: chemical and physical. Chemical exfoliators use acids (typically BHAs and AHAs) to exfoliate, and despite their name, they're usually the better choice for sensitive skin. Physical exfoliators work to physically exfoliate skin through the process of scrubbing or rubbing, and often use grittier ingredients like sugar, beads, and crystals. Tools, like loofahs, pumice stones, dry brushes, konjac sponges, and Clarisonics, all fall under the physical exfoliator umbrella. Then, there are peels and pads, which often combine both physical and chemical exfoliation through ingredients and texture. The act of scrubbing sensitive skin can sometimes result in redness and irritation, which is why chemical exfoliators are typically the safer choice.
How Often Should You Really Exfoliate Your Skin?
Before you decide on exfoliating every day, make sure your skin actually needs it. Over-exfoliating can cause irritation and inflammation, and if you have particularly sensitive skin, you should probably only exfoliate a few times a week. Dermatologists offer mixed opinions on how often you should exfoliate your face. Some say only a few times a week, while others say every day is fine — as long as you're using a gentle exfoliator.
I have sensitive-ish skin, and I use a chemical exfoliator every day — though granted, I've been building up my skin's tolerance for years. If you plan on going the scrub route, stick to a few times a week — but these days, there are tons of exfoliating face washes that are gentle enough to be used everyday.
Below, find a handful of the best facial exfoliators that are gentle enough for daily use.