This $30 Kitchen Gadget On Amazon Is The Key To Brewing Better Tasting Coffee At Home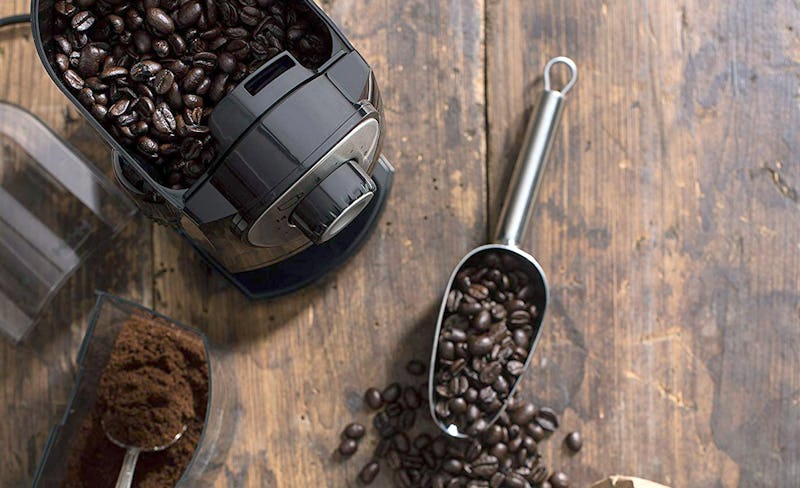 Amazon
For the best, freshest tasting coffee, nothing beats grinding your own beans. Keeping beans whole slows down the degassing process that causes coffee to lose its flavor. There are both high-quality electric and manual coffee grinders on the market, but the best electric coffee grinders offer convenience, control, and speed — all important things in the rushed morning hours. You can grind coffee in two main ways: blade or burr grinders. Blade grinders tend to be cheaper but typically offer less control over the final grind. Burr grinders are more accurate but tend to be bigger and more expensive.
No matter what type of grinder you choose, both are capable of grinding coffee for every type of brew, from fine espresso all the way to coarse French press. Budget and space are the two biggest factors in determining burr vs. blade grinders, but there are a few other things to think about. Do you have other grinding needs, like spices or grains? A blade grinder can be easily cleaned between uses and make small amounts of fresh-ground spice or flour.
No matter which one you go with, a great cup of coffee has a lot to do with freshness. If you've invested in freshly grinding your coffee, make sure you're keeping your coffee beans fresh, too. In general, the freshest beans will have a date when they were roasted — you can try to get as close to the purchase day as possible. The ideal coffee bags also have a one-way valve that lets oxygen escape but not enter.
Once you have your coffee home, store them out of direct light and with as little oxygen as possible. Ideally, ground beans should be used immediately, but if you want to grind small batches ahead of time, the same rules apply: Store them somewhere with minimal exposure to oxygen or light.