A Good Sear Starts With One Of These Sizzling Electric Grills For Steaks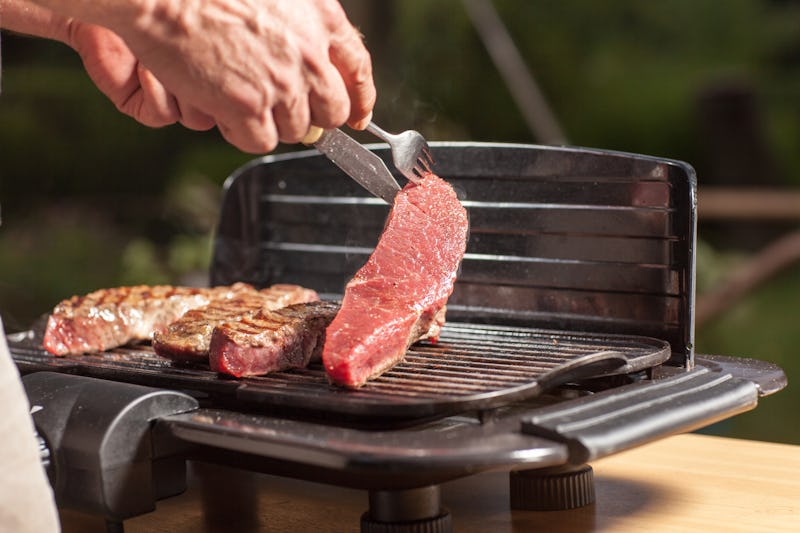 fotolia/gani_dteurope
In the hunt for one of the best electric grills for steaks, you'll stumble upon a lot of grills that advertise quick heat times and offer a ton of grilling space. But, because electric grills don't reach as high of temperatures as their gas or charcoal counterparts, the best ones for steak will be able to heat up to 400 degrees Fahrenheit so that you can cook steaks well (or well done).
However, heat settings can prove tricky to determine, as certain models don't advertise specific temperatures in favor of a 1, 2, 3, numbered dial. Grills with a numbered (or numberless) dial can still be great options, so long as the temperature settings reach high enough.
Electric grills are a particularly good choice for indoor spaces because they don't require fire to heat and cook food. But, if you prefer to barbecue outside, there are high-quality grills safe for use outdoors, and even versatile models that can be used both inside and out.
Lastly, consider how much space you'll need. If you're cooking for a large group, you'll want something that can fit additional steaks. Not only will the size of the cooking surface impact your overall decision, but you'll also want to purchase a grill that you have space to store, whether that be a compact tabletop model, or a larger standing grill.
For an in-depth look at some of the best electric grills for steaks that you can buy, keep scrolling.