Trim More Fat And Make Delicious Sauce & Gravy With These Fat Separators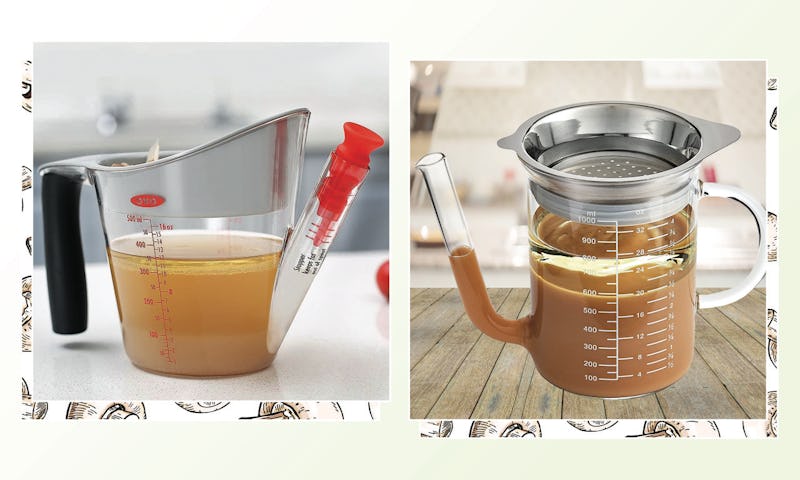 Amazon
Whether you prefer a bottom-release separator or a pitcher style, the best fat separator makes quick work of removing fat from gravies and sauces while making less of a mess. Separators rely on the principle that fat floats to the top after some time, but you'll want to consider what style, size, and material fits best into your kitchen.
Style
As mentioned above, there are two main types of fat separators — pitchers or bottom-release separators — but they work similarly.
Bottom-drainers: This style releases sauce from an opening in the bottom of the container, which keeps the fat toward the top and out of your gravy or sauce, you just have to keep an eye on the levels as you release the drippings. Bottom-drainers are generally easier to clean.
Pitchers: A pitcher-style fat separator most closely resembles a measuring cup as it pours the strained sauce through its spout. The best pitcher separators come with a spout stopper for doing a better job of separating the fat compared to pitchers that lack this feature, though pitchers may take a little more finesse to keep the fat completely out and may require a bottle brush to clean due to the narrow spout.
Either kind should come with a comfortable non-slip handle since fatty liquids can get slippery.
Size
A 4-cup fat separator is an all-purpose size for Thanksgiving gravy or any other kitchen task, but it's larger size may take up some room. For more occasional use or if you're cooking for just one or two people, you may prefer a 2-cup size. Measurement markings on the side are helpful for monitoring your gravy or sauce.
Materials
Most fat separators are made of BPA-free, heat-resistant plastic with silicone or stainless steel strainers. If you're avoiding plastic, a glass fat separator is an eco-friendly alternative, but keep in mind that glass is more susceptible to breaking if dropped. Look for one made with borosilicate glass that is more heat-resistant and sturdier than most glass.
With all this in mind, below are the best fat separators, any of which will have you well on your way to a better gravy or sauce.
We only recommend products we love and that we think you will, too. We may receive a portion of sales from products purchased from this article, which was written by our Commerce team.