This 5-Star-Rated Fire Pit Is The Backyard Upgrade You Deserve This Summer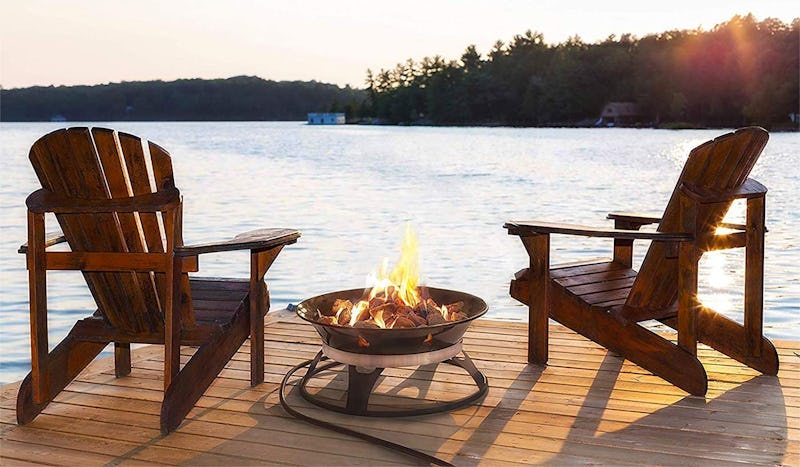 Amazon
Wood is highly combustible, which means it catches fire easily — so installing a fire pit on your wood deck requires extra precautions. When you're shopping for the best fire pits for wood decks, it's much safer to go with a gas fire pit (rather than wood-burning) and to consider installing a fire pit pad to protect your deck from radiant heat.
Gas pits, which commonly use propane tanks as fuel, are better for a wood deck because they're smokeless and emberless, and they tend to produce less radiant heat than wood. Wood fires, on the other hand, produce embers that are difficult to contain and can easily ignite fires outside of the pit — which is a real concern if you're on a wooden deck.
You should always thoroughly read the manufacturer's specifications before installing and using a fire pit. Not only do you need to make sure that your deck has ample clearance for the pit, you need to also ensure that it will not exceed the weight limit of your deck. Some fire pit manufacturers may recommend that you install a custom non-combustible base or pad as a barrier between the fire pit and your wood deck — but even if they don't specifically recommend this, it may be worth installing one anyway just to be safe.
Always check your local and state regulations to make sure you can lawfully and safely install a fire pit on your deck — and be sure to leave the actual fire pit installation to a certified professional. There's some element of risk whenever fire is involved, so it's important to take all of the recommended fire pit precautions before you begin the process of installing one of your own.
OK, safety spiel over — on to my recommendations. From fancy fire tables to portable pits, here are the best fire pits for your wood deck.
We only recommend products we love and that we think you will, too. We may receive a portion of sales from products purchased from this article, which was written by our Commerce team.