Calling All Bakers, These Top-Notch Flour Sifters Will Seriously Up Your Cooking Game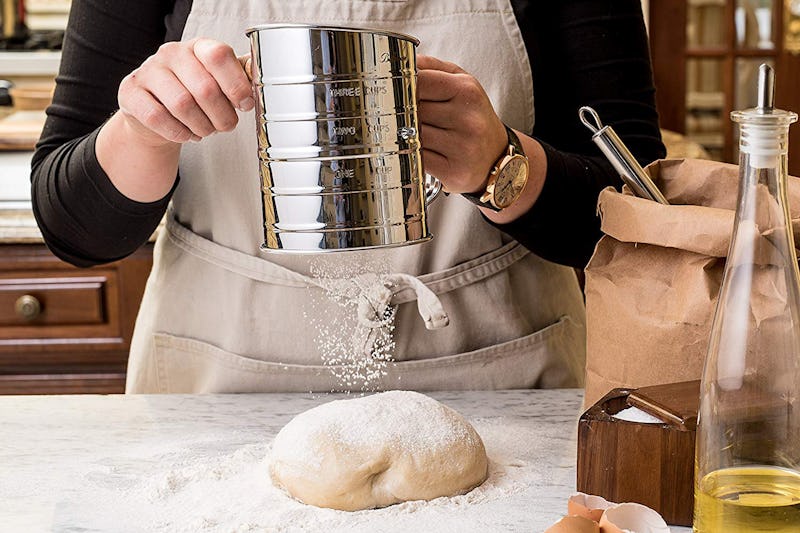 Amazon
Have you heard the expression "baking is a science"? It's enough to scare people into reaching for boxed muffin mix every time they bake. The truth is, if you've ever struggled with baking, simply sifting your flour can make a big difference. Flour has a tendency to settle as it's stored, and it can be tempting to measure directly from the bag. The result? You end up with clumps and often use more flour than necessary, which disrupts the proportions. But don't worry, the best flour sifters aerate your dry ingredients so you can measure accurately for light, fluffy, baked perfection.
To find the right flour sifter, here are a few things to keep in mind. Though they come in different styles, all sifters function by moving flour through a sieve or screen, usually with a scraping wire mechanism. Some sifters are squeeze-operated, others have hand cranks, and you can even find motorized models. If you're sifting several cups of flour, you want to be comfortable, so decide which functionality you prefer.
Depending on what you bake, the volume of flour will vary. For most recipes, a 3-to-5-cup capacity is sufficient. If you bake frequently, you might like a sifter with airtight lids to keep flour fresh inside the chamber between uses.
Whichever style you choose, the best flour sifters can take some of the guesswork out of baking, so you can stop stressing and save your boxed mixes for emergencies.