These Foot Massagers Are The Key To Plantar Fasciitis Relief & 2 Are Less Than $20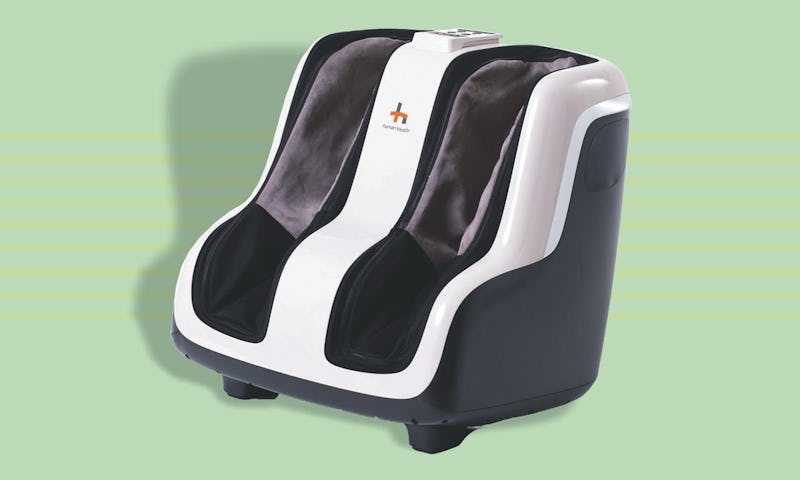 Amazon / Bustle
While in-office visits are certainly nice, the best foot massagers for plantar fasciitis let you enjoy some of the same benefits in the comfort of your home and on your own time. Especially when paired with dynamic stretching of the feet and the calves, massage is a powerful tool to help with plantar fasciitis symptoms. When choosing the best massager for your needs, there are two main types to consider:
Manual massagers such as foot rollers and massage balls are easy to use and convenient to tote. Best yet, this type of massage is commonly recommended by physical therapists. You have a lot of control over the strength of the massage and don't have to worry about being close to an outlet. These also tend to be significantly less expensive.
Electric massagers provide things like heat and automatic kneading that a manual massager just won't, but they are also significantly more expensive. Electric models are also bigger and typically need to be plugged in. It's important to check that the model you get will fit your feet size, too.
To get more insight, Bustle reached out to Michelle Hittner, LMT and owner of Austin Massage Company. She noted that the benefits of massage for your plantar fasciitis, don't stop at the feet. "While massaging the actual foot feels great and you do feel some relief when only concentrating on the foot, you are treating the symptom mostly and not the cause," Hittner explained. "Stretching the various muscles in the lower leg will give more relief and more prolonged relief as you are addressing more of the root of the pain, not just where the pain is presenting." Preliminary research suggests that massaging the calves can be especially helpful, which is why I included an electric foot and calf massager in this roundup.
Hittner also recommends speaking with an expert in anatomy and physiology on how to best combine "soft tissue work, stretching, and take-home care to treat and prevent future occurrences."
With all that in mind, you'll find the at-home manual and electric foot massagers Amazon reviewers are obsessed with below.