The 4 Best Foot Soaks For Toenail Fungus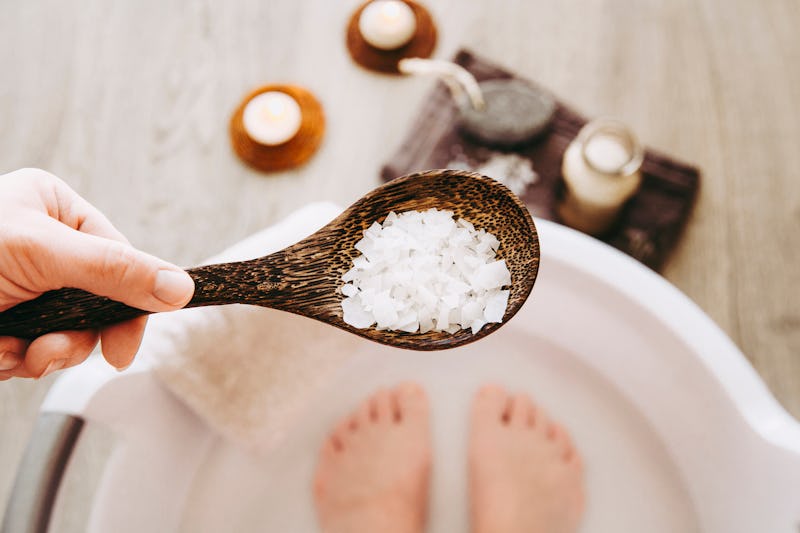 Shutterstock
Whether you're prone to toenail infections or you're dealing with your first issue, they can seriously impact your life. For one, they can be painful, and they can make it tough to wear your favorite shoes, work out, or even go barefoot around your house. Clearing it up quickly is key, and the best foot soaks for toenail fungus actually make the process enjoyable.
But before you go and buy the foot soak that smells the best, it's super important to check the ingredients label. To truly banish toenail fungus, any soak you choose should include ingredients that are naturally antifungal and antibacterial. A good option is a traditional tea tree soak, which is known for eliminating all kinds of bacteria and odors. Other excellent choices are peppermint, eucalyptus, and even skin-soothing lavender.
You'll also want to consider the duration of your treatment. If your feet and nails are generally healthy and you're just trying to prevent another flare-up, you can snag one or two treatments and be done. But if you're in the process of clearing the fungus, you may want to invest in a larger tub of foot soak so you have it on hand regularly.
It's not exactly easy to find the perfect foot soak with all the right ingredients and rave reviews. Here's a roundup of some of the best foot soaks for toenail fungus out there so all you have to do is sit back and enjoy a good soak while helping your feet heal.
Editor's note: If you're experiencing persistent toenail fungus, consult your doctor to receive specific medical advice.