Here Are 4 Great Dupes For Glossier's Solution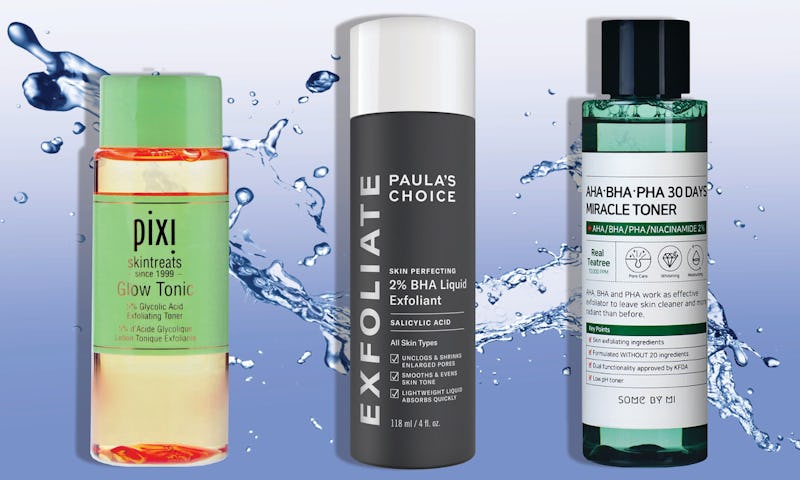 Amazon/Bustle
There are plenty of reasons why people might reach for a chemical exfoliant over a physical one. Firstly, they tend to be a bit more gentle, since they don't actually scrub your skin, making them the better choice for sensitive skin types. They're also great for treating acne because the acids they contain work to resurface dead skin cells and unclog pores. Glossier's Solution is a fan-favorite chemical exfoliant, but it can be hard to get your hands on — which is where the best Glossier Solution dupes come in.
Glossier Solution's is among the best chemical exfoliants out there because combines four different acids — two AHAs, one BHA, and a PHA. The AHAs, lactic acid and glycolic acid, work to brighten skin and reduce hyperpigmentation. The BHA, salicylic acid, unclogs pores, while gluconolactone, the PHA, counteracts any drying.
To find the best dupes for Solution, I focused on finding other acid-based chemical exfoliators and toners that work similarly. With such a unique combination of ingredients, it'd be hard to find an identical formula — but the products on this list basically do the same job. All of these formulas work to exfoliate skin and unclog pores, keeping it clear, bright, and blemish-free.
As great as Solution is, it isn't available for delivery everywhere in the world and often sells out — so check out four of the other best liquid exfoliants you can buy, instead.