How To Find The Best Brush To Clean Your Grill — Because Spring Cleaning Is Here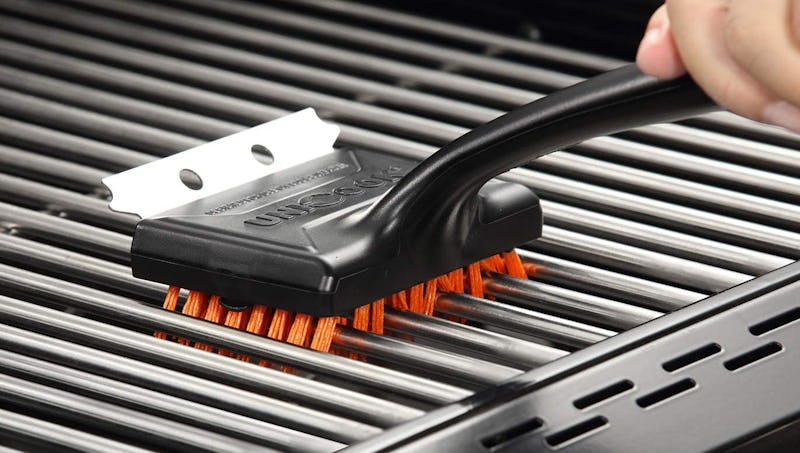 Amazon
Grilling enthusiasts will tell you, there's nothing worse than tasting last week's fish kabobs on this week's hamburger bun. Cleaning your grill regularly helps prevent flavors from intermingling, but it can also keep flare-ups from built-up food and grease at bay. When it comes to finding a grill brush, quality and materials can vary, so here are a few things to look for when shopping for the best grill brushes.
First, do some research on the kind of brush material your grill's manufacturer recommends. Most grills can be cleaned with a metal brush, and durable stainless steel is the best choice. Brushes should be replaced frequently (and immediately if there's any visible rust), since corroded bristles can break off and potentially get into your food. Some manufacturers have developed bristle-free options with flexible metal mesh that slides between grill grates, which is also a good alternative. If you want to avoid metal, you can find high-quality brushes made from nylon. Just remember, nylon is not as heat-resistant as certain metals are, so it can't be used on hot grill surfaces.
Some brushes have scrapers for loosening stubborn particles, but they should be used carefully to avoid damaging surfaces, which can lead to rust or corrosion. Finally, look for a brush that has at least a 15-inch handle. Since it's most effective to clean your grill while it's warm, you'll be able to work at a distance from heat and any particles that become dislodged.
When used regularly, the best grill brushes can ultimately extend the life of your grill.
We only recommend products we love and that we think you will, too. We may receive a portion of sales from products purchased from this article, which was written by our Commerce team.