This Grill Accessory Will Make Cleaning Up So Much Easier, Without Sacrificing Taste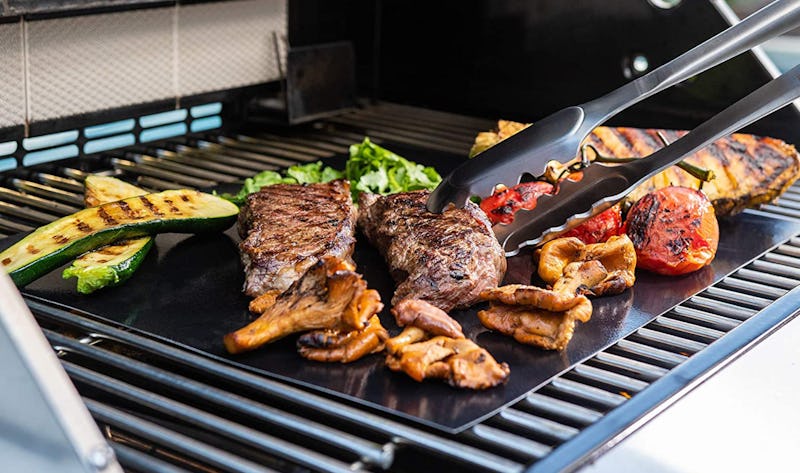 Amazon
Whether you use propane or charcoal, food grilled over an open flame takes on a smoky, deep flavor that's impossible to attain otherwise. But if you've ever grilled vegetables or shrimp, you know that certain items can easily slip through your grill's grates, wasting food and causing a mess. The best grill mats create a heat-resistant barrier so you can successfully grill all types of food, without sacrificing flavor. They also protect grill grates from built-up grease, marinades, and food particles — which makes for much easier clean-up. Here are some things to keep in mind when shopping for this innovative accessory.
Since grills are available in different sizes, there isn't a one-size-fits-all grill mat. The best grill mat for you can be cut to fit your grilling area and is made from tightly-woven, flexible material, like a heat-resistant nylon or metal mesh. Look for a mat with food-safe nonstick coatings for the easiest time cleaning up.
Grills can reach very high temperatures (especially those with lids), so opt for a mat that can withstand at least 500 degrees Fahrenheit. Proper use and care of your grill mat is important, and in general, they should be stored flat or rolled, never folded, to prevent tears and cracks.
The best grill mats below will protect your grill's surface and contain runaway ingredients, so you get the benefits of grilling without the clean-up!
We only recommend products we love and that we think you will, too. We may receive a portion of sales from products purchased from this article, which was written by our Commerce team.