These Are The Best Insoles For Heel Pain, According To A Podiatrist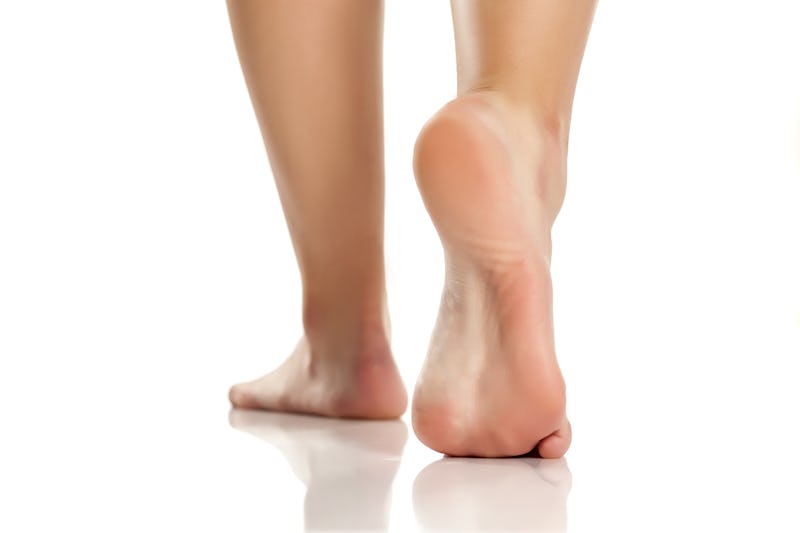 vladimirfloyd / Fotolia
Heel pain can make it feel like a relatively small part of your body is affecting your entire life. Standing and walking can become painful, and the problem can worsen if not treated. Insoles, which can provide support and relief for your foot, are one way to help treat the issues. But the best insole for heel pain for you should reflect the cause of your pain, and not all heel pain is the same, explains Dr. Doug Tumen, DPM, a specialist at Hudson Valley Foot Associates and author of Ask The Foot Doctor, in an interview with Bustle.
Accroding to Dr. Tumen, one leading cause of heel pain is plantar fasciitis, and it affects between 2 to 3 million Americans annually. An inflammation of the tissues connecting your heel to the ball of your foot, it can cause intense heel pain for sufferers. For that, the best insoles for heel pain will offer a lot of support to not only help with the pain but address underlying causes in how you walk and stand. If your pain comes from a heel bruise, on the other hand, you will want a softer insert mostly for cushioning.
While the causes of heel pain varies, Dr. Tumen also explains that many have the same root cause: concrete. "Our ancestors were hunters and gatherers living on soil and grass," Dr. Tumen explains. By contrast, today, we are walking on hard surfaces most of the time, whether at work, shopping, or even working out. "The heel bone takes the initial brunt and impact of each step," Dr. Tumen continues.
Better shoes with more cushioning are often a first defense, but insoles can greatly improve cushioning and support. Injury or pain can easily occur with any combination of overuse or poor support, another reason insoles are a good choice. Dr. Tumen also adds that heal pain can be alleviated by icing it, daily stretches, and oral anti-inflammatories as needed. Dr. Tumen especially recommends avoiding being barefoot as much as possible, opting for cushioning, supportive shoes and, if necessary, inserts. It is best to see a doctor to address your specific needs and treatment therapy, as well.
However, inserts can often be one of the leading suggestions for treating and relieving pain. See the best picks for different types of pain below: