Cooking Under Pressure? These Budget-Friendly Instant Pot Alternatives Make Dinner Easy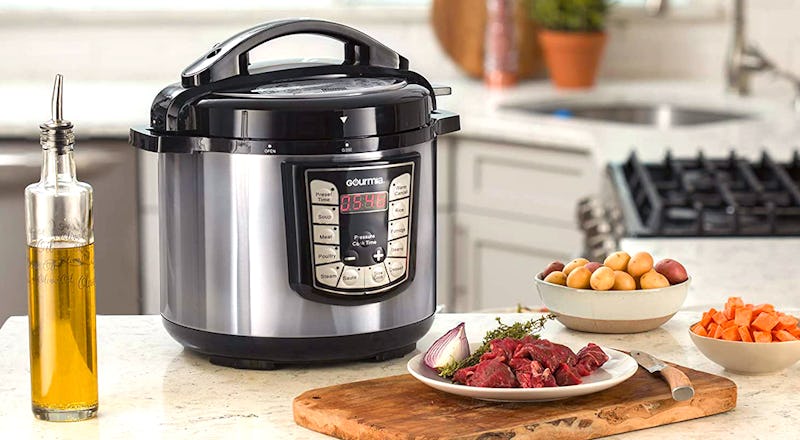 Amazon
By now you've heard about how much of a time-saver an Instant Pot is, and how versatile it can be. While they're certainly a worthy investment, I knew there had to be a more budget-friendly Instant Pot alternative out there for people like me, who like the idea of a pressure cooker but know in the end it might only get used a handful of times each year.
The good news is that there are plenty of models out there that come with affordable price tags yet are still equipped with serious functionality. Keep these best-selling features in mind to make sure you score a reliable cooker.
Multitasking Capabilities: Look for gadgets that can sub in for more than just a few tools in your kitchen. At the very least, it should replace your slow cooker and rice maker (and pressure cooker too, if you already have one) — since those are the three appliances that inspired the original.
High-Tech Internal Monitors: These will control everything from cooking temperature to pressure, so they're vital to have in a multifunctional cooker. Some are advanced enough to set timers and make adjustments as food cooks to ensure perfect results.
One-Touch Programming: Keep an eye out for buttons with specific functions, also called presets. The Instant Pot has up to 14 presets (think sauté, steam, etc), and some models can even sterilize jars or sous vide.
Serious Safety Features: I'm sure I'm not alone in thinking old-fashioned pressure cookers are terrifying. Fortunately, modern multicookers come with high-tech safety features like patented lid-locking technology. Others have a designated feature that tells you when it's safe to approach. Additional measures like automatic shutoff are also important to consider, especially if you like to "set it and forget it."
Easy Cleanup: The original Instant Pot's stainless steel pot and components are dishwasher safe, and I'll go out on a limb and assume you don't want to hand wash heavy inserts. Every pick below is dishwasher safe as well.
Whether you're a die-hard Instant Pot fan or a skeptic who hates cooking, these solid Instant Pot alternatives will be a worthy addition to your kitchen.
We only recommend products we love and that we think you will, too. We may receive a portion of sales from products purchased from this article, which was written by our Commerce team.