This Mezzaluna Knife Is The Kitchen Tool You Never Knew You Needed Until Now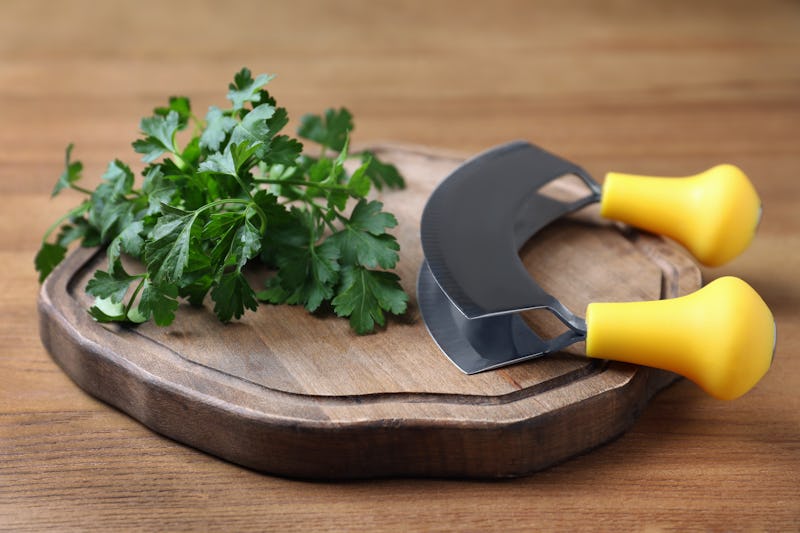 Shutterstock
With the unmistakable half-moon shape it's named after, the best mezzaluna knife quickly chops herbs, nuts, garlic, and more without requiring great knife skills or a food processor. Yet, not all mezzalunas are created equal, so it's important to consider a few key factors.
Blades
The first thing to look for in a mezzaluna (or rocking knife) is the number of blades. While extra blades can provide more speed, food also can get annoyingly caught in between them. For that reason, stick to a single blade or, if quickness is key, choose a dual blade with ample space between blades.
From there, consider the blade's length, which tends to range from 5 to 14 inches. For larger or denser food items, a longer blade can tackle more volume and offers more efficiency and versatility. Yet, if you plan to use your mezzaluna primarily for small batches of herbs, a smaller blade will provide greater agility.
Handles
Mezzalunas are also available with one or two handles. A double handle — with one mounted on each end of the blade — is best for high-volume chopping because the style is conducive to the rocking motion used with this knife. However, if you're looking to slice pizza or the occasional bunch of herbs, the controlled motion of a single handle may be all you need — plus, the knife will be easier to store.
Materials
Next up, let's talk materials. Wooden handles on knives may be aesthetically pleasing, but they can be slippery, which means only synthetic-handled knives made the cut here for stability. As for a long-lasting blade, go for mezzalunas made with quality stainless steel blades.
With all this in mind, it's time to shop for the best mezzaluna knife to help you chop. All of these knives are highly rated on Amazon.