The 4 Best Natural Moisturizers For Oily Skin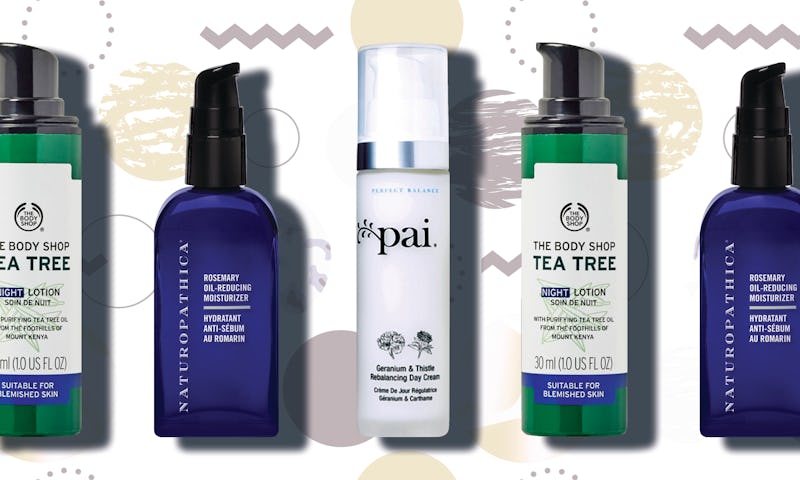 Amazon/Bustle
What does natural really mean? In the beauty industry, the meaning couldn't be more vague, thanks to a lack of government-enforced guidelines as to what constitutes a natural beauty product. Any brand can slap the word '"natural" on a label, even if the product only contains one "natural" ingredient but is otherwise packed with chemicals. That means, if you're looking to transition to a cleaner beauty routine, you're going to have to get familiar with ingredients. In this article, you'll learn what to look for (and what to avoid) on your quest for the best natural moisturizers for oily skin.
It's first important to note that not all chemicals are bad. For example, even the most natural beauty products still might need preservatives to keep them from producing bacteria or expiring quickly (read more about Herbivore Botanicals' recent issue for an example). To keep things simple, there are a few primary ingredients to avoid: synthetic dyes and fragrance, sulfates, formaldehyde, and anything you have a known allergy to. Researchers are torn on whether parabens and phthalates are truly bad for you, but if you're being extra careful, might as well avoid them, too. Last, if a product has been certified organic by the USDA, the Soil Association, or ECOCERT — or is NSF- or EWG-certified — you can probably trust it.
Now — onto moisturizers for oily skin. Ideally, you'll want the formula to be oil-free, so it doesn't exacerbate greasiness. You'll also want to make sure it's non-comedogenic, which means it won't clog your pores, and if it product says it's mattifying, that's also a good sign.
But don't worry about having to start reading the fine print on every moisturizer at the drugstore, because I've done all the leg work for you. Check out the handy guide below for the four of the best natural moisturizers for oily skin, below.