Finally Get A Quiet Night's Sleep For Less Than $20 With These Noise-Blocking Earplugs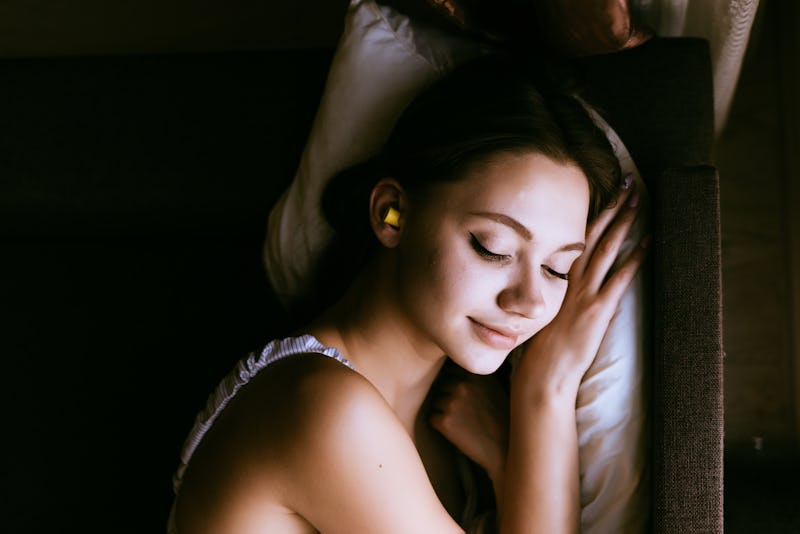 Nelen / Shutterstock
If you're a light sleeper, have a partner who snores, live in a high-traffic area, or are just having trouble falling asleep, the best noise-canceling earplugs for sleeping can help. Although no hearing protection device completely blocks out all sound, noise-canceling earplugs help block a lot of sound vibrations from reaching your eardrum to limit the amount of noise that you hear and create a much quieter environment so that you can rest easy.
When choosing the best pair for sleeping, it's important to pay attention to its noise reduction rating, also called NRR. This number tells you how much the device can reduce sound exposure in decibels. A decibel is a measurement of sound intensity which typically ranges from 0 to 194. Mild to moderate snoring, for example, tends to vary from 40 to 60 decibels, so an NRR 28 pair of earplugs would reduce a jarring 60 decibels down to 32 decibels, the sound level of whispering nearby. The higher the NRR of your device, the more sound it will be able to block out.
There are three main types of earplugs to choose from:
Foam earplugs are soft and affordable, but the foam material makes them prone to bacteria, so regularly replacing them is a good idea. Some people also find foam earplugs to be too large for their ears, which is why I've included a set of smaller ones specially designed for sleep.
Silicone earplugs, on the other hand, are reusable, but some find them to be uncomfortable to wear while sleeping, especially side-sleepers. And while there are softer silicone earplugs available, they usually have lower NRRs.
Wax earplugs easily mold to the size of your ear, giving you a snug fit, but they're susceptible to ear residue and other substances sticking to them. According to some Amazon reviewers, the way they feel takes some getting used to.
Alternatively, if you enjoy listening to music, meditations, or ASMR before you sleep, there are also electronic earbuds designed specifically for sleeping, and I've included a pair of those here. Though they have noise-cancelling double-layer silicone earplugs, no NRR is given for these.
To help make the selection process easier, here's my roundup of the best noise-canceling earplugs for sleeping. All of these top-rated picks will block unwanted sounds to make drifting off to sleep easier.