These Non-Acetone Nail Polish Removers Might Be The Key To Healthy Nails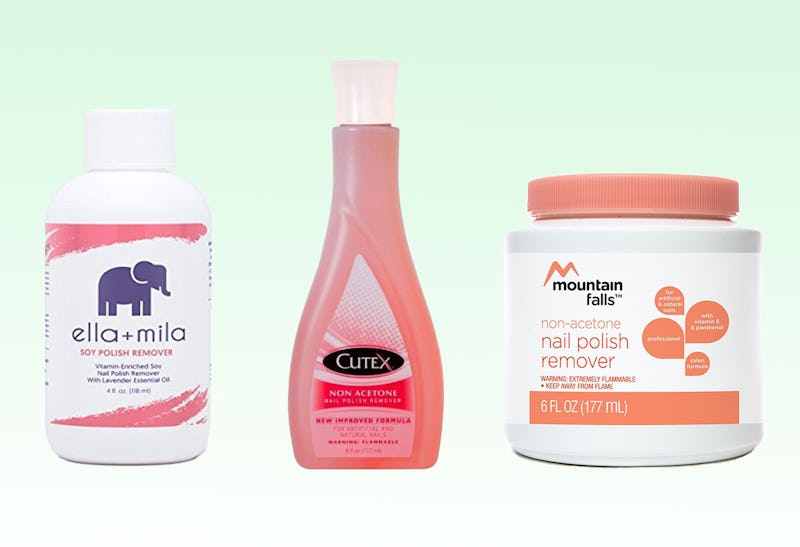 Amazon/Bustle
Let's be real: Removing your nail polish isn't necessarily the most exciting part of your beauty routine. But, it's important, not only for the sake of appearance and upkeep, but for your nails' health, too. That's where safe formulas come in. The best non-acetone nail polish removers are key when looking to care for your nails and cuticles in the most natural and safe way. There's nothing like flaunting a fresh and fab mani-pedi, but when it comes to removal, it's good to keep your nails well-being (and by extension, yours) at the forefront of your mind.
So first things first: what exactly is acetone? And why are there varnish-removing formulas that don't contain it? Acetone is a strong liquid solvent that can dissolve paints, polishes, and pigments. Because of its strength, it can also be reeeeeally dehydrating and hard on both your nails and your cuticles. So, some companies choose to leave it out and rely on other ingredients that might not be quite as fast-acting and strong, but they can certainly get the job done — and you won't have to sacrifice hydration or nail health for effective polish removal.
Below, you'll find four of the best acetone-free nail polish removers on the market. These formulas rely on mostly natural ingredients, like protein (something your nails are made of, after all); soy (which can help break down lacquers); vitamin E (hydrate, hydrate, hydate!); and other healthy ingredients that won't cause damage. Rather, they'll help to restore your nails to their natural and glorious state, while fortifying them along the way.