Calling All Cat Parents, These Non-Clumping Litters Are Purrrfect For Your Kitten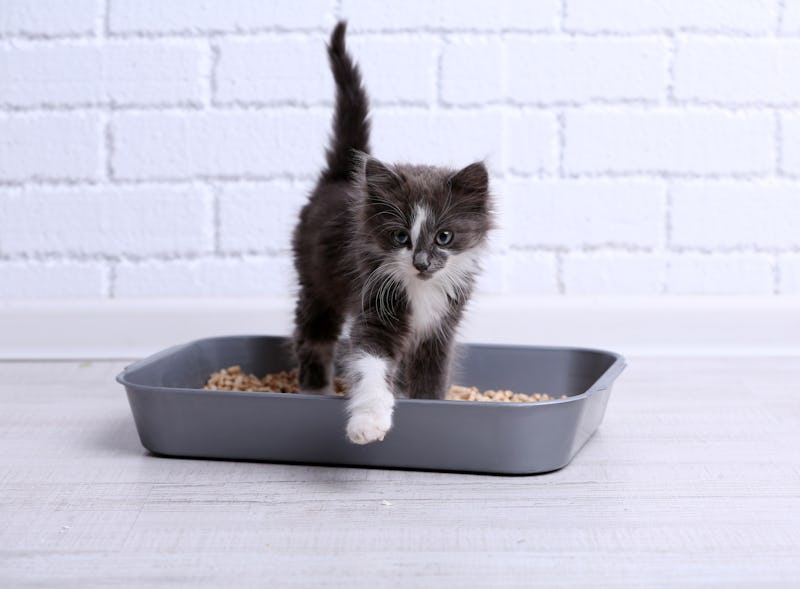 Africa Studio/Shutterstock
Cat experts recommend using a non-clumping litter formula for the first few months of a kitten's life, but with a seemingly endless array of options, it's hard to know which one will be the best fit. Though many of these litters are made from plant-based materials (like pine or paper), the best non-clumping cat litters for kittens will not just be safe for tiny felines, but will also be incredibly absorbent, light enough for small paws to dig, and easy to clean up. If you prefer clay, there's even a non-clumping option that still meets all of the above criteria.
The first thing to decide on when you're shopping for the right litter is the material. In case your curious kitten inhales — or accidentally eats — the litter inside their box, you'll want to opt for a substance that's as safe as you can get. In other words, one that's made from a non-toxic source. Which you choose will come down to your personal preference, though there are some high-level differences.
Paper litter is known to be super soft on paws. Pine or wood-based pellets are low-dust and easy to scoop. Coconut litter may be the most expensive of the group but it's also very lightweight and absorbent, which means you can use much less to cover your litter box needs. Similarly, clay-based litters for kittens are also lightweight, but in order to ensure they're safe for your fur baby, you'll want to look for the traditional (non-clumping) kind that's made of larger particles that won't stick to soft fur and are much harder for them to eat.
In terms of odor control, you'll find the best formulas for kittens are mostly unscented. If you prefer to have extra protection against smells, though, you can look for odor-absorbing additives like baking soda or fragrance.
There are few things in life that can bring the same joy that a playful kitten can, and keeping them happy with the best cat litter will set you both up for a peaceful co-existence. Learn more about four great options from Amazon below!
We only recommend products we love and that we think you will, too. We may receive a portion of sales from products purchased from this article, which was written by our Commerce team.