Grind Your Teeth? These 4 Mouth Guards Protect Your Teeth From Damage — And They're Surprisingly Cheap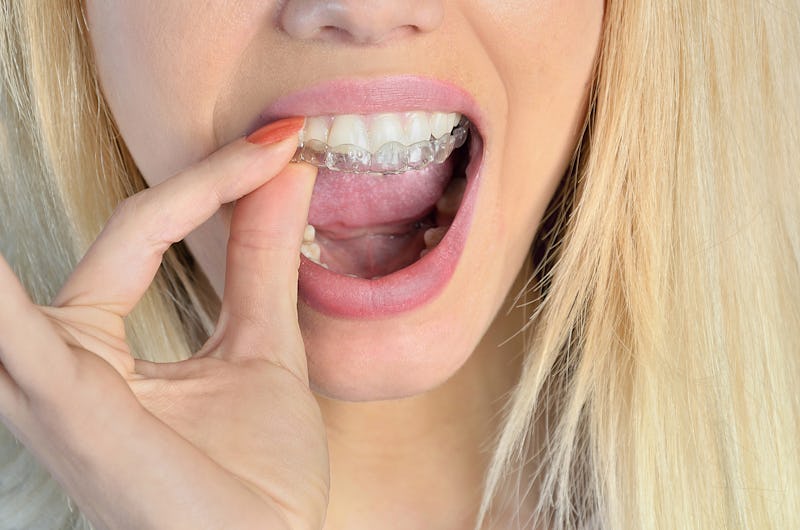 DeeaF / Shutterstock
Teeth grinding can happen at any hour. However, Tricia Quartey-Sagaille, D.M.D., FAGD, told Bustle in an interview that grinding at night has the most potential to be harmful because it's not under a person's conscious control. Luckily, the best over-the-counter mouth guards for teeth grinding can help separate your top and bottom teeth, preventing the jaw pain, headaches, and even tooth damage often caused by grinding. Dr. Marc Lowenberg of Lowenberg, Lituchy & Kantor in New York City told Bustle that anyone who grinds their teeth can actually benefit from wearing a mouth guard, regardless of whether they notice any symptoms. While both experts that I talked to said that the best mouth guard is one that is custom fitted to your mouth by your dentist, an over-the-counter (OTC) pick can still be beneficial (and is usually much, much cheaper).
Stock Versus Boil And Bite Over-The-Counter Mouth Guards
OTC mouth guards typically fall under two categories: one-size/stock and boil and bite.
One-size/stock: This is usually the cheapest option for a mouth guard and comes ready to use… literally pop it right into your mouth straight from the package. Keep in mind, though, that this option is not fitted to your teeth, so some find stock mouth guards difficult to wear.
Boil and bite: A boil and bite mouth guard takes a little bit more work by you initially; the mouth guard needs to be placed in hot water (or boiled) and then placed in your mouth so it can conform to the shape of your teeth. The good thing is that this extra step usually allows for a better fit. According to Dr. Quartey-Sagaille, "Mouths are individual, which is why a 'boil and bite' mouth guard has an edge over the one-sized fits all product."
To help you find the ideal mouth guard for you, here are four highly-rated options on Amazon.