4 Amazing Overnight Face Masks That Work Magic While You Sleep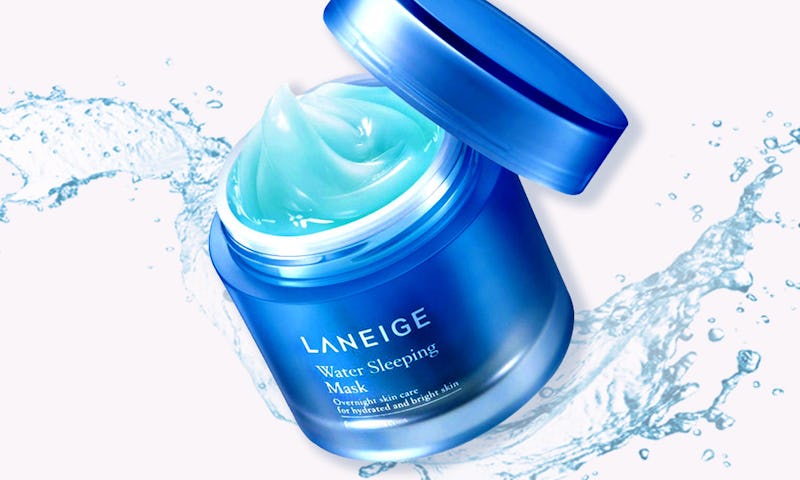 Amazon/Bustle
When you think of face masks, you probably conjure up memories of poorly-fitted serum-soaked sheets or clay mixtures that take forever to wash out of your eyebrow hairs. Generally, masks are washed off, peeled off, or removed entirely and thrown in the trash. However, there are some masks that can double as moisturizers or spot treatments, and others that can be left on as sleeping packs (as they're called in Korean beauty terms) to give your skin an extra boost while you slumber. The best overnight masks address myriad concerns, though almost all of them guarantee that you'll wake up with the dewy, glowing skin of your dreams.
If dryness is your primary concern, selecting an overnight mask that's designed to hydrate, moisturize, and soothe chafing skin might be a better option for you than a brightening mask that focuses on minimizing hyperpigmentation in scarred and acne-prone skin. Everyone's skin is different, and one person's primary struggle can be super different from another's. Even my summer skin is drastically different from my winter skin, and with a face so fickle, it's important to keep multiple types of sleeping packs on hand.
To give credit where credit's due, all of the options on this list are from reputable K-Beauty brands, who brought overnight masks into the mainstream. Korean beauty innovation truly knows no bounds, so below, we showcase four of the best overnight formulas for moisturizing, soothing, and retexturing skin while you sleep.
Read on to find out which overnight mask is right for you. Happy masking!