4 Backpacks That Are Actually Comfortable To Wear When You Run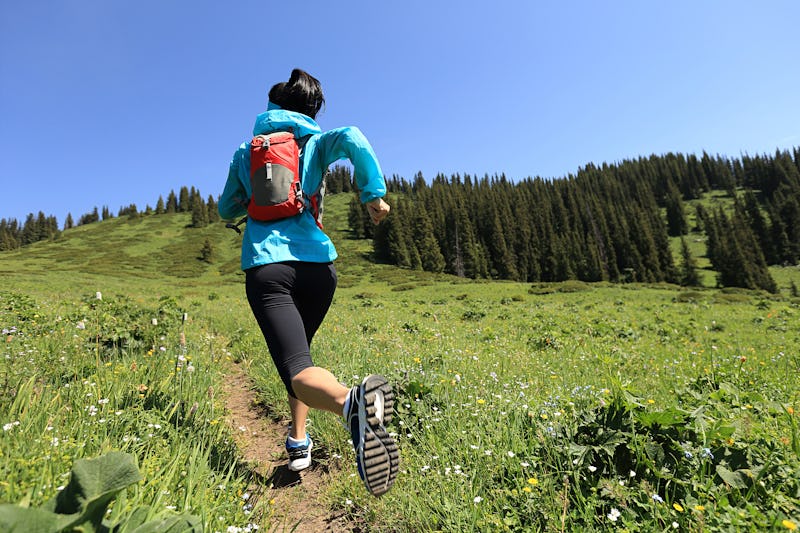 lzf / Shutterstock
Whether you're heading out on a long-distance run, hitting the trails, or jogging to work, the best running backpacks are a handy way to tote water, gear, or other daily necessities.
Not every backpack is ideal to wear while running, however. Running backpacks should fit comfortably without bouncing around, which makes it important to look for packs with adjustable straps so you can achieve the perfect fit. If you care a lot about comfort (especially if you might be carrying heavier items), look for straps with padding. And if you tend to get really sweaty, look for straps made from breathable materials, such as mesh, for better airflow. A backpack that has shoulder, chest, and waist straps allows for even weight distribution, which is important because it spreads out the weight of the bag instead of dumping it all on your shoulders.
Size is another main factor to consider. It's important to pick a backpack that is big enough to carry your essentials, but not so large that you're stuck lugging around extra bulk or weight. A backpack's capacity is usually measured in liters. If you only need to carry water, your phone and keys, and a few other small items, it may be worthwhile to opt for a hydration vest instead of a full-on backpack. These vests are much smaller in size and less bulky, and they allow you to stay hydrated thanks to built-in hydration packs (more on that in a second).
Be on the lookout for other convenient features, too. Backpacks with a hydration pack make getting your water intake a breeze; a hydration pack can usually hold a couple of liters of water (depending on the size), and the straw-like attachment makes for easy access so you can drink water while you run. Conveniently placed pockets are another perk to look for; after all, the last thing you want to do is interrupt your run just to find your gels. If you're going to be commuting with your pack, you might want to keep an eye out for a model with a laptop sleeve to protect your electronics.
Sifting through the best running backpacks on Amazon can be overwhelming, but it doesn't have to be. To help out, I identified four backpacks reviewers say are the perfect combination of comfort and functionality.