According To A Plastic Surgeon, These Silicone Sheets Are The Safest & Easiest Way To Fade Scars At Home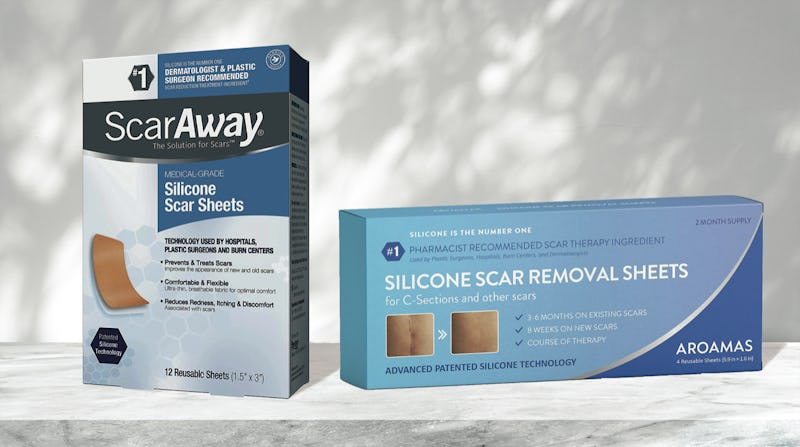 Bustle/Amazon
If you've been left with a scar following a surgery or skin injury, you may feel inclined to reduce its appearance. Or maybe not! But if that is something you're interested in, the best silicone scar sheets offer a user-friendly and clinically proven way to fade both old and new scars at home. Similar to a Band-Aid, these self-adhesive sheets come in different sizes, though they are much more flexible, reusable, and longer wearing because they're crafted from 100% medical-grade silicone. To learn more about scarring and what to look for in a silicone scar sheet, I spoke with Dr. Steve Fallek, MD, a board-certified plastic surgeon at NYC-based BeautyFix Med Spa.
According to Dr. Fallek, when applied topically, silicone can help keep injured skin hydrated. "It mimics the skin's moisture barrier [thus] trapping the moisture in your body," he tells Bustle. In addition, the layer of gentle pressure provided by these sheets can help relieve itchiness and flatten and fade any raised or discolored areas. "They can [be] used for any possible scarring to diminish pigmentation from surgery, cuts, burns, or other injuries."
Still, there aren't many differences from one silicone patch to the next, so when shopping, consider the price and the size. They're all designed to be reusable (up to two weeks per sheet so long as you follow the care instructions) and can be trimmed down, but for something specific like a C-section scar, you may prefer a pre-measured option. And because consistency is key in order to see improvement, you'll want to factor in how many sheets you'll need to complete the duration of treatment: about eight weeks for newer scars and three to six months for existing ones.
Silicone treatments are safe to use on all new and old healed scars — though for fresh wounds, especially from post-surgical incisions, you'll still want to get clearance from your doctor first. And remember: At-home treatments like this are not intended to completely eliminate scarring, but the following silicone sheets for scars should be able to improve their pigment, size, texture, and overall appearance.
We only recommend products we love and that we think you will, too. We may receive a portion of sales from products purchased from this article, which was written by our Commerce team.