4 Super-Effective Snow Shovels For When You Just Want To Hurry Up & Go Back Inside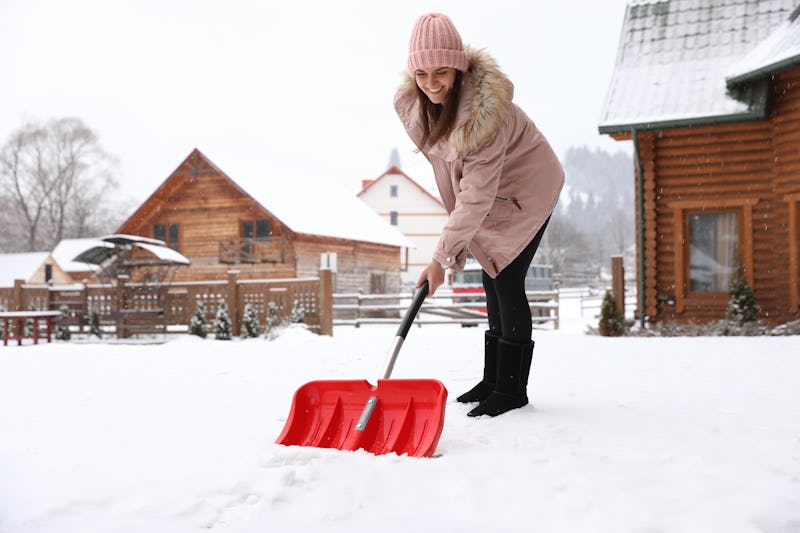 New Africa / Shutterstock
Snow might look light and fluffy when it falls from the sky, but anyone who's tried to shovel without one of the best snow shovels knows that it can be quite heavy when it comes time to remove it from your driveway, walkways, and other outdoor spaces. FEMA's Snow Load Safety Guide says that one foot of fresh snow can weigh up to 21 pounds per square foot. Yeah, you read that right. So trust me when I say that you do not want to get stuck without the the top snow shovels to handle removal; they can make the whole process much easier
When it comes to picking out a snow shovel, there's actually quite a lot to consider. Here are the main things that you should pay attention to:
Material: Plastic (sometimes referred to as polyethylene) is a good lightweight, yet sturdy material pick. And since the repetitive motion of shoveling can get tiring, a lightweight pick is certainly ideal. Aluminum is also a common shovel material that tends to be stronger than plastic and is great for busting through ice (but can damage softer surfaces, like wood decks and patios). Some shovels feature a wear strip (which can be made from different materials like plastic) to help protect both the blade of the shovel and the surface that you are using it on.
Shaft design: While a typical shovel has just a straight shaft, which is good for stability if it's on the shorter side, an ergonomically-designed pick usually has a curved/bent shaft that may be more comfortable during use.
Blade size: Blades range in size (with car-friendly picks being under 10 inches wide to full-on picks being 18+ inches wide). If you've got a large space to clear, then it might be wise to go with a larger pick.
Shovel alternatives: Let's face it… shoveling is hard work. If you're looking to take some of the load off your own shoulders, I've included a wheeled snow shovel here that can handle some seriously major snow.
Here are four picks that will help make snow removal easier, so you can spend more time enjoying hot cocoa and relaxing in front of a fireplace.