These Durable Spiralizers Can Tackle Hard Vegetables & They're Zoodles Of Fun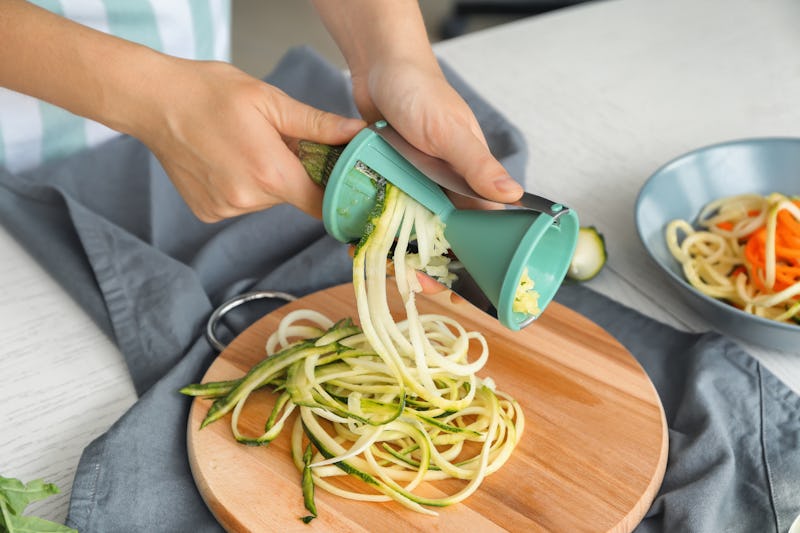 fotolia/Leonid
If you're ready to invest in one of the best spiralizers for hard vegetables, then you're probably well aware there are a lot of types: manual and electric; small and large; with or without additional blades. And, while all spiralizers perform the same function, there are a few key differences to pay attention to.
First, the number of interchangeable blades can be a game-changer. While making noodles is great, different blade shakes (aka individual blades that are different lengths with different serrations) will allow you to make everything from garnishes to fruit rings. In general, you'll get more use out of a spiralizer with more blades. But if you prefer veggie noodles over everything else, there are plenty of choices for spiralizers with ultra high-quality, replaceable blades.
Another thing to keep in mind is how often you're planning on using your spiralizer. If you know you'll be pulling your spiralizer out frequently, it may make sense to invest in a larger one, which takes up more room on a counter or in a cabinet, but will ultimately offer the most useful features. But if you aren't sure you're all-in on veggie noodles yet, look into a smaller one that won't take up as much space.
It can be tough to narrow down your options, especially when it comes to new kitchenware you haven't tried out yet. Here's a list of some of the best spiralizers for hard vegetables out there to help you out.