4 Stand Mixers Under $100 That Will Change How You Bake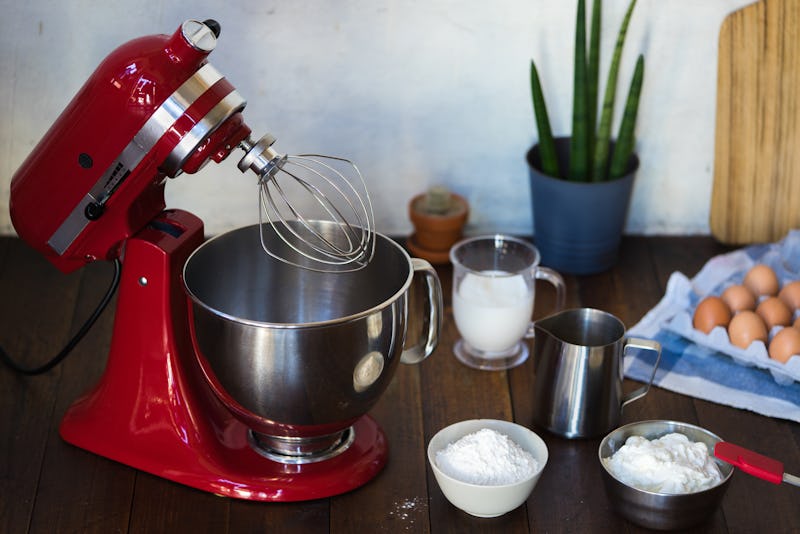 Dmitry_Evs / Shutterstock
While many popular stand mixers run upwards of $300 a pop, there are plenty of affordable options that still pack a punch in the kitchen. The best stand mixers under $100 offer bakers the main features of more expensive models for a fraction of the cost.
Before you buy a stand mixer, think about the amount of batter you'd like to fit in the mixing bowl. Do you plan to bake in standard recipe quantities, or do you see yourself regularly baking large-batch recipes that will require a bigger bowl? Additionally, if you'd prefer a stand mixer that can convert to a hand mixer you can use with any bowl, that's an option too.
Consider the amount of power you might require from your stand mixer as well. Generally, the higher the wattage, the more power the machine has and wattage can vary wildly, so a device with a 650-watt motor will be able to mix dense ingredients more easily than one with a 250-watt motor. Speed settings vary too and are important to think about — the more speeds a mixer offers, the more control you'll have over how gently or vigorously the device mixes.
Finally, you should decide which mixer attachments are important to you. Every mixer should include beater attachments, which are a standard go-to for combining batters. But you might want whisk attachments if you make recipes that require you to whip air into your ingredients, like beating egg whites into peaks for meringue. And if you're interested in baking bread, a dough hook attachment will come in handy.
Once you know what you're looking for, it's easy to select the right stand mixer for your needs, even if you're on a budget. Here are four of the best affordable stand mixers out there: