4 Travel Mugs That Can Brew The Perfect Cuppa Tea On The Go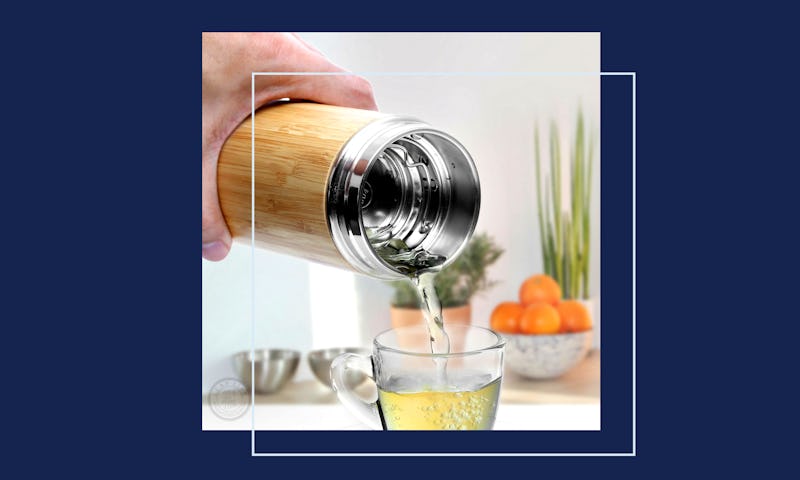 Amazon / Bustle
No offense to the classic tea bag, which makes brewing tea so easy, but bags don't make for a travel-friendly tea drinking experience. Plus, if you prefer loose leaf tea, there's also the reality that bags can taste different. Luckily, the best tea infuser travel mugs are an amazing and versatile product if loose hot tea, cold tea, or herb and fruit-infused waters are your on-the-go beverage of choice. But with so many varieties of travel mugs to choose from, it's helpful to get a handle on the pros and cons of what's out there.
One of the more popular tea infuser mugs you'll come across is double-walled glass mugs that put your mind at ease when it comes to BPAs and other harmful chemicals that you'll find in a lot of plastic cups — and that are released upon contact with hot water. On the other hand, if designed with the right technology, stainless steel mugs are capable of keeping your tea hot (or cold) for hours. Although, when shopping for stainless steel options, it's important to read reviews and find a steel mug that is resistant to odors and stains.
No matter what mug material you prefer, the tea tumbler mug options on this list all have a few crucial things in common: they have leak-proof lids that are tight and won't make a mess in your car (or on your coat); and their high-quality steel strainers hold herbs and fruit securely so that you never take a sip of your drink and wind up with tea leaves on your tongue.
Most importantly, you'll never have to bother with a tea bag again.